David Nelson is a partner in the Baton Rouge office of Kean Miller. He joined the firm in 1985 and practices in the construction and commercial litigation groups. David is an AV-rated lawyer selected by his peers for inclusion in The Best Lawyers in America in the fields of Construction Law and Construction Litigation (2010-2019), and was named a Baton Rouge Lawyer of the Year in Construction Law by Best Lawyers in 2019. He has been selected for membership as a Fellow in the Construction Lawyers Society of America. For over 30 years he has represented construction clients in a wide variety of construction disputes including litigation, contract negotiation and interpretation, international arbitration and mediation, lien rights and remedies under the Public Works Act and the Private Works Act, performance, payment, bid and retainage bond rights, and liability and responsibility issues. He has extensive experience in water intrusion cases.
David's knowledge of the construction process began long before law school. He worked in the construction industry during high school and college. This "from the ground up" understanding of the nuances of the construction industry enables David to proactively work with clients and their workforce to recognize and prevent problems before they occur.
David also has extensive emergency response experience representing industrial clients in the immediate aftermath of catastrophic incidents involving mass casualties, personal injuries, environmental impacts, and extensive property damage. David provides "boots on the ground" representation in these critical times assisting clients in connection with investigations conducted by various federal and state agencies including, but not limited to, the Occupational Safety and Health Administration (OSHA); Chemical Safety Board; Pipeline and Hazardous Materials Safety Administration (PHMSA); State and local law enforcement. David also provides immediate on site advice and assistance to ensure physical evidence is properly preserved, identified and maintained, facts are obtained and properly documented from witnesses. He is frequently asked to assist clients in post-incident root cause analysis of the incident. David also represents clients in connection with the subsequent litigation, which frequently arises out of such incidents.
David represents petrochemical facility owners, engineers, contractors, industrial concerns, building owners, architects and engineers in a wide variety of matters including improper construction and design issues. David has handled significant cases for Williams Olefins, LLC, Transcontinental Oil & Gas, Air Liquide Large Industries U.S. LP; BASF Corporation, IBM, Arkel International, DSM Copolymer, Inc., Nalco Chemical Company, Trinity Industries, Inc., The Rapides Regional Medical Center, ARCO, Albertson's, and Credit Suisse First Boston. He also provides construction contract review services for clients in the electrical, instrumentation, mechanical and roofing industries.
David is AV-rated by Martindale Hubbell since 2002, is listed in Louisiana Super Lawyers 2014-2019 and listed in Best Lawyers in America in the fields of Construction Law and Construction Litigation, 2010-2020. David was recognized as Baton Rouge Lawyer of the Year in Construction Law by Best Lawyers in 2019.
He has been the Chair of the Construction and Commercial Litigation Practice Group for the Louisiana Association of Defense Counsel since 2015.
Representative Experience
Defense of an electrical contractor against a multi-million dollar claim related to a multi-story commercial construction project involving design, installation, and code compliance issues for both low and regular voltage
Representation of one of the nation's largest electrical contractors regarding Louisiana contractor licensing issues
Representation of an environmental emergency response company in defense of property damage and personal injury claims, including class action claims, and commercial litigation claims stemming from multi-million dollar warehouse fire
Representation of an industrial client with regard to electrical and instrumentation issues and in the defense of delay claims
Representation of construction companies in cases involving electrical installation practices, water penetrations, roofing, structural design and HVAC issues
Representation of a church in construction defect case involving water intrusion caused by design and construction errors
Defense of an international corporation in a complex arbitration concerning breach of a seller's warranty as to environmental issues and fitness of equipment including electrical panels and transfer switches
Defense of several industrial clients in defense of toxic exposure claims, hearing loss claim, and asbestos claim
Defense of a barge manufacturer in defense of class action claims relating to premature corrosion of vessels
Defense of an international software developer in breach of warranty claims relating to defective design and implementation of software
Defense of a general contractor in a multi-story hotel project in defense of property damage and personally injured claims arising out of alleged construction defects causing mold
Defense of contractor in international arbitration involving U.S. Embassy project in Iraq
Education
David earned his B.S. from Louisiana State University in 1982. He earned his J.D. from the LSU Law Center in 1985. David is a graduate of the Masters Advocacy Program at the National Institute for Trial Advocacy (1992) and is a faculty member for the Gulf Coast Regional Trial Advocacy Program and the LSU Law Center Trial Advocacy Program.
Admissions
Admitted, Louisiana, 1985
Memberships
Baton Rouge, Louisiana State and American Bar Associations; Louisiana Association of Defense Counsel (Chair, Construction Practice Group, 2015-present); American Bar Association Litigation Committee; American Bar Association Construction Committee; Fellow of the Construction Lawyers Society of America; AAA National Panel of Construction Arbitrators

Articles, Publications and Presentations
The Doctrine of Substantial Performance - Close Only Counts in Horseshoes, Hand Grenades, Atomic Warfare and Construction, Louisiana Law Blog, June 10, 2019

Instructor: National Institute of Trial Advocacy, Gulf Coast Regional Program, 1990
Instructor: National Institute of Trial Advocacy, Deposition Program, 2002
Arbitration Rulings are Final, Even When the Arbitrators Get It "Wrong on the Law", Louisiana Law Blog, August 13, 2015
Technical Presenter: Louisiana State Bar Association, Environmental Law Section, Topic: Toxic Mold: Modern Plaque or Ancient Nuisance, November 2002
Author, Ruling the Unruly: Case Management Order for Complex Litigation in State Court, 1998
Author, Legal Considerations for the Health and Safety Professional, 1995
Instructor: Louisiana State University Law Center Trial Advocacy Program, 1995-present
Technical Presenter: International Technology Corporation Technical Exchange, American Industrial Hygiene Conference, Topic: Identification of Risk in Cause and Origin Investigation, 1993
Author, The World of the Construction Attorney: The Good, The Bad, and The Lawyer. Aspatore Books, 2006
Technical Presenter for American Institute of Architects Louisiana section. Topic: Contractor Delay Claims and the Design Professional, 2006
Technical Presenter a the Construction Super Conference in San Francisco, California. Topic: Equitable Adjustment Clauses, 2008
Technical Presenter for the Louisiana Dental Association in Steamboat Springs, Colorado. Topic: Four Hours With a Lawyer versus a Root Canal Without Anesthesia...Tough Choice Ain't It? 2008
Community Service
Lecturer, Louisiana Association of Educators, 1987-present
President, St. Jude the Apostle School Advisory Council, 2001-2002; Vice President, 2000-2001; Member, 1995-2000
Board of Directors, St. Joseph's Academy, 2003-2006
Board of Directors, Attorney, Louisiana Council on Child Abuse,1987-1988
Co-Moderator, Catholic High School Mock Trial, 1998 to 2002
Legal Director, Mock Trial Competition of Baker High School, 1991
Participant, Baton Rouge Bar Association's "Lawyer in the Classroom" Program
Lector, St. Jude the Apostle Church, 2005-present
American Arbitration Association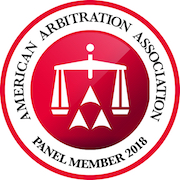 Construction Lawyers Society of America