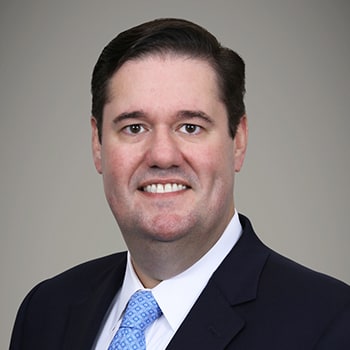 James H. Dupuis, Jr.
Partner
Jimmy Dupuis is a partner in Kean Miller's office in The Woodlands, TX. He practices in the energy, business and corporate, and real estate groups. His primary focus is representing oil and gas companies and renewable energy companies in Texas, New Mexico, Louisiana, Kansas, Colorado and Oklahoma.
His oil and gas work includes advising and assisting operators and non-operators in all phases of exploration and production, including land and title issues, and operational and regulatory issues. He has extensive experience preparing title opinions, negotiating and drafting contracts, and performing due diligence in connection with the acquisition and divestiture of oil and gas assets.
His renewable energy work includes advising on real estate issues and helping companies establish site control. He performs due diligence, negotiates and drafts contracts, resolves issues presented by severed estates, and works to cure title and survey issues.
His real estate work includes purchase, sale, financing, and leasing transactions involving commercial properties, and landlord/tenant matters.
Representative Experience
Issued thousands of oil and gas title opinions, including original/drilling title opinions, supplemental title opinions, division order title opinions, leasehold title opinions, surface title opinions, and acquisition title opinions
Advises land and legal departments in upstream oil and gas companies on a variety of operational and regulatory issues, including joint operations, pooling and unitization, lease maintenance, payment of royalties and other production proceeds, surface use, salt water disposal, use of sand and water for hydraulic fracturing, and disputes with royalty owners and working interest partners
Negotiates and drafts contracts for upstream energy companies, including joint operating agreements, purchase and sale agreements, pooling and unitization agreements, surface use agreements, rights of way, saltwater disposal agreements, leasehold assignments, royalty and overriding royalty assignments, curative instruments, and various other contracts
Due diligence in connection with the acquisition of producing assets in all areas of Texas, New Mexico, Louisiana, and Oklahoma, most recently in the Delaware Basin and Midland Basin in West Texas, the Eagle Ford Shale in South Texas, the Austin Chalk in East Texas, the Delaware Basin and San Juan Basin in New Mexico, and the Haynesville Shale in Northwest Louisiana
Representation of renewable energy companies in connection with site control issues, including due diligence, advising on the status of surface and mineral title, negotiating and drafting term sheets, options, leases, purchase agreements, deeds, surface use agreements, waiver of surface use agreements, accommodation agreements, easements and rights of way, and other related contracts, resolving issues presented by severed estates, and curing title and survey issues
Education
Jimmy earned his B.S. from the University of Louisiana at Lafayette in 1994. He earned his M.S. from the University of Memphis in 1998 and his J.D. from the LSU Law Center in 2001, where he was a member of the Order of the Coif and the Louisiana Law Review.
Admissions
Admitted, Texas; New Mexico; Louisiana; Kansas; Colorado; Oklahoma

Memberships
The Woodlands (Energy Resources Section), Houston (Oil, Gas & Mineral Law Section; Real Estate Section; Probate, Trust & Estate Section; Commercial & Consumer Law Section) and Texas State (Oil, Gas & Energy Resources Section; Real Estate, Probate & Trust Law Section; Environmental & Natural Resources Section; Business Law Section) Bar Associations; Rocky Mountain Mineral Law Foundation; American Association of Professional Landmen (AAPL); Houston Association of Professional Landmen (HAPL); North Houston Association of Professional Landmen (NHAPL); West Houston Association of Professional Landmen (WHAPL); Louisiana Mineral Law Institute Advisory Council (2010-2015)
Articles, Publications and Presentations
Lyle v. Midway Solar: Shedding Light on the Application of the Accommodation Doctrine in a Dispute Between Owners of Mineral Rights and Solar Rights. Texas Law Blog, January 7, 2021
Stayin' Alive: Texas Supreme Court Interprets Lessee's Right to Accumulate Unused Days in Continuous Development Clause, TexasLaw Blog, December 30, 2020
Piranha Partners v. Neuhoff: Texas Supreme Court Chews up Court of Appeal's Ruling on Interpretation of an Assignment of Overriding Royalty Interest, Texas Law Blog, December 8, 2020
Notary by Video Conference: Estate Planning and Real Estate Documents, Texas Law Blog, May 6, 2020
Regularly gives in-house presentations to land and legal departments in upstream energy companies on a variety of topics
Texas PSA and Alloction Wells, 2019 NALTA Conference, Westminster, CO, August 2019
The Duhig Rule: What to do with Three Halves of a Whole, 2019 NALTA Conference, Westminster, CO, August 2019
PSA and Allocation Wells, ATX-ALTA, Austin, TX, July 2019
Allocation Wells, AAPL, Fort Worth, TX, October 2018

Guest Lecturer at the University of Louisiana at Lafayette, teaching part of a course on Petroleum Land Management entitled Leasing and Operating on Louisiana State Owned Lands, (2005-present)
Guest Lecturer at the University of Louisiana at Lafayette, teaching a part of a course on Petroleum Land Management entitled Texas and Louisiana: Comparison and Contrast of Land Practices (2018-present)
No Pooling … No Problem? Drilling and Operating Allocation Wells, HAPL Spring Saturday Seminar, May 2018
Three Halves of a Whole: How to Understand and Apply the Duhig Rule in Your State, HAPL 49th Technical Workshop, April 2018
No Pooling … No Problem? Drilling and Operating Allocation Wells, NHAPL Half-Day Seminar, February 2018
Cemetery Law for Landmen: Is Drilling a Well Through the Dead Center of a Cemetery a Grave Mistake?, NHAPL, November 2017
Allocation Wells and PSA Wells, AAPL Texas Land Institute, September 2017
State Law Regimes: Gulf Coast Region (Texas, Louisiana), Rocky Mountain Mineral Law Foundation Special Institute on Oil and Gas Agreements: Surface use in the 21st Century, May 2017
Getting to the Bottom of Subsurface Trespass Law in Texas – What Happens Underground Stays Underground, NHAPL Half-Day Seminar, February 2017
Guest Lecturer at an intersession course and CLE at Washburn University Law School, Topeka, Kansas, entitled Mineral Title Examination (2013, 2014, 2017)
How Slow Can You Go? Lease Maintenance Issues and Strategies in a Low Oil Price Environment, NHAPL Half-Day Seminar, February 2016
Is My Lease Still Good? Lease Maintenance Beyond the Primary Term, HAPL 27th Annual Fall Saturday Seminar, October 2015
Mineral and Leasehold Conveyance Issues, Rocky Mountain Mineral Law Foundation Special Institute on Nuts and Bolts of Mineral Title Examination, April 2015
Three Halves of a Whole: Making Sense of the Duhig Rule, NHAPL, December 2014
Three Halves of a Whole: The Duhig Rule in Louisiana and Other Producing States, Louisiana Mineral Law Institute, April 2014
Voluntary Pooling and Unitization in Texas, Dallas Association of Professional Landmen Luncheon, February 2013
How to Buy a Good Mineral Lease: Capacity and Authority to Sign a Mineral Lease, Baton Rouge Association of Professional Landmen, March 2011
Capacity and Authority to Sign a Mineral Lease, Ark-La-Tex Association of Professional Landmen Educational Seminar, February 2011
Understanding Louisiana Royalty Interests, Ark-La-Tex Association of Professional Landmen Educational Seminar, November 2010
Understanding and Calculating Royalties, Agreements and Disputes in Oil and Gas Production, November 2010
Recent Case Law: Mineral Leases, LAPL, September 2010
Revisiting the Pugh Clause, LAPL Fall Educational Seminar, November 2009
Ownership of Oil and Gas Rights in Louisiana, Oil, Gas, and Mineral Land Law, September 2009
Texas and Louisiana Mineral Law: Similarities and Differences, Southwest Land Institute, April 2009
An Introduction to Louisiana Mineral Rights; Louisiana Mineral Leases – Administration and Maintenance; and Louisiana Pooling and Unitization, DFW-Association of Lease and Title Analysts Spring Seminar, April 2009
Texas vs. Louisiana Mineral Law, NHAPL Land Seminar, February 2009
Capacity and Authority to Execute a Mineral Lease, LAPL Fall Seminar, December 2007
Case Law Update, Louisiana Mineral Law Institute, April 2007
Louisiana Landman 101, Title Pro Seminar, June 2006
Louisiana Mineral Law, AAPL Next Generation Landman Institute, April 2006
The Better Part of Wisdom is Deference: Judicial Review of an Office of Conservation Order in Yuma Petroleum Co. v. Thompson. 61 La.L.Rev. 241 (2000)

Community Service
Board Member, The Woodlands Area Economic Development Partnership, 2018-2019
Member, The Woodlands Chamber of Commerce