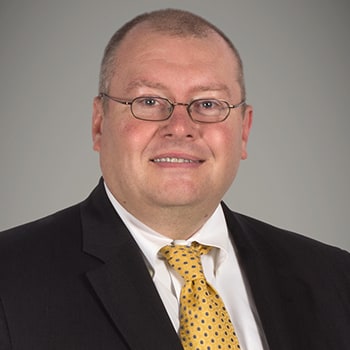 Brian R. Carnie
Partner
Brian Carnie is a partner in the Shreveport office of Kean Miller and practices in the labor and employment group. He represents employers of all sizes in the private and public sectors. Brian dedicates his practice exclusively to the representation of management's interests in virtually all aspects of labor and employment law, including the defense of wrongful discharge, discrimination, harassment, retaliation, workplace tort, breach of contract, FMLA, and OSHA whistleblower claims in federal and state courts, and before administrative agencies. Brian prepares, litigates and defends non-compete agreements and other restrictive covenants for his clients. He has extensive experience in Fair Labor Standards Act (FLSA), collective wage and hour cases, and Americans with Disabilities Act (ADA) access cases, otherwise known as "drive-by" or "google" lawsuits. In addition to his litigation practice, Brian guides employers through complex disability and leave issues, sexual harassment investigations, workforce reorganizations/layoffs, wage and hour investigations, and worker misclassification and I-9 audits. He routinely represents management in collective bargaining, union grievances, arbitrations, and provides businesses with effective union avoidance strategies.
Brian also helps employers understand and comply with the ever-changing rules and regulations under the Affordable Care Act, including practical guidance on employer responsibilities, compliance and testing, reporting/notice requirements, and representation of employers who challenge the new IRS ACA penalty notices and appeals of demands for payment.
Representative Experience
Assisted a large employer in the Ark-LA-Tex (6,000 + employees) region with business planning under the Affordable Care Act ("Obamacare"), including the evaluation of regulatory impact on an existing workforce structure and group health benefits, assistance with reporting requirements, and the creation of effective compliance strategy to defend against any future IRS demands for payment
Intervened in a high-stake race discrimination case and convinced the U.S. Equal Employment Opportunity Commission ("EEOC") to reverse For Cause Determination (which likely would have resulted in EEOC enforcement action against multi-state provider of services for individuals with developmental disabilities)
Successfully defended a multi-national casino-entertainment company in an age, sex, race, and national origin discrimination and retaliation case at trial and appellate levels. As a result, the U.S. Supreme Court denied plaintiff's request for review
Representation of a Texas-based restaurant chain in an audit by the U.S. Department of Labor ("DOL") into alleged wage-hour violations against numerous current and former employees. Induced the DOL to cease enforcement action in exchange for nominal payments to a handful of former employees, and avoided a class action lawsuit
Successfully tried and defeated a teachers' union lawsuit against a parish school board seeking injunctive relief to enjoin enforcement of the boards' reduction in force policies
Served a statewide strike counsel for national telecommunications provider. Responsible for access injunctions, prosecuting and defending National Labor Relations Board ("NLRB") unfair labor practice charges, and handling related litigation connected to union disruptions and nationwide bargaining negotiations
Education
Brian earned his B.S., magna cum laude, from Northern Illinois University in 1992. He earned his J.D. from Case Western Reserve University Law School in 1995.
Admissions
Admitted, Illinois, 1995; Texas, 2006; Louisiana, 2007; United States District Court for the Western and Middle Districts of Louisiana, Northern and Western Districts of Texas, Northern District of Illinois, and Northern District of Florida; United States Court of Appeals, Fifth Circuit
Memberships
Shreveport, Louisiana State, and Texas State Bar Associations (LSBA, Labor & Employment Section); Harry V. Booth and Judge Henry A. Politz American Inn of Court; Northwest Louisiana Society of Human Resource Management (at-large member, 2015 Board of Directors; Chairperson, Legislative Affairs Committee)
Articles, Presentations and Publications
In the Weeds: An Update on Marijuana Laws, Kean Miller Labor and Employment Seminar, Baton Rouge, LA, October 28, 2022
Congress Provides More Time to Use FFCRA Paid Leave (at the Employer's Option), Louisiana Law Blog, December 22, 2020
Employers Beware: More Employees May Have to Self-Quarantine After Exposure to Confirmed COVID-19 Individuals, Louisiana Law Blog, October 23, 2020
New Phasing Plan Requirements from LA State Fire Marshal, Louisiana Law Blog, May 15, 2020
Return to Work, Are You Ready?, Louisiana Law Blog, April 26, 2020
New CDC Guidance About Essential Employees Exposed to COVID-19, Louisiana Law Blog, April 9, 2020
Eligible Self-Employed Individuals under the CARES Act, Louisiana Law Blog, April 9, 2020
DOL Rolls Out Leave Act Regulations and Changes Course on Some Issues, Louisiana Law Blog, April 2, 2020
DOL Issues Third Set of Leave FAQs, Louisiana Law Blog, March 30, 2020
DOL Issues Additional Leave FAQs, Louisiana Law Blog, March 27, 2020
Families First Coronavirus Response Act: The Model Notices Are Here, Louisiana Law Blog, March 26, 2020
Leave Act Takes Effect April 1 and Other New DOL Guidance, Louisiana Law Blog, March 25, 2020

Co-Presenter, Protecting Your Business & Employees From the Impact of COVID-19, Kean Miller Webinar, March 19, 2020
Updated Guidance from the EEOC: "What You Should Know About the ADA, the Rehabilitation Act, and COVID-19", Louisiana Law Blog, March 20, 2020
Coronavirus Leave Bill Signed Into Law, Louisiana Law Blog, March 19, 2020
COBRA and Coronavirus, Louisiana Law Blog, March 18, 2020
Coronavirus Paid Leave Bill Still in House, Louisiana Law Blog, March 16, 2020
Coronavirus Paid Leave Bill Passes House, Louisiana Law Blog, March 14, 2020
Congress Responds to the Coronavirus, Louisiana Law Blog, March 13, 2020
The Final OT Rules Are Out - Time For Action (Again)!, Louisiana Law Blog, September 24, 2019

To Be or Not To Be Exempt (the 2019 Proposed OT Rule), Louisiana Law Blog, March 8, 2019

Op-Ed: IRS continues efforts to collect ACA penalties from non-compliant employers, New Orleans CityBusiness, July 24, 2018
IRS Continues to Ramp Up Efforts to Collect ACA Penalties from Non-Compliant Employers, Louisiana Law Blog, July 23, 2018
Lawsuit Claiming that Employer Sought to Evade Obamacare Costs Leads to $7.4 Million Class Action Settlement, Louisiana Law Blog, December 4, 2017
Co-presenter, Trumpcare and Other Legal Developments in the First 200 Days, Centenary College of Louisiana, August 2017
ADA Access: "Drive By" or "Google" Lawsuits and the Americans with Disabilities Act?, Louisiana Law Blog, February 3, 2017
Breaking: New FLSA Salary Rule Enjoined by Court, Louisiana Law Blog, November 22, 2016
Some (But Not All) ACA Deadlines Extended for 2016 Reporting Year, Louisiana Law Blog, November 21, 2016
Decision on Fair Labor Standards Act Expected Next Week?, Louisiana Law Blog, November 17, 2016
Employees and Time Off to Vote, Louisiana Law Blog, November 7, 2016
The Flood of 2016: Employment Issues for Businesses, Louisiana Law Blog, August 17, 2016
The Final OT Rules Are Out - Time For Action!, Louisiana Law Blog, May 2016
Happy New Year! ACA Reporting Deadlines Extended, Louisiana Law Blog, December 2015
Louisiana Employers Beware: Your Reimbursement Plan May Violate Affordable Care Act Market Reforms, Louisiana Law Blog, June 2015
IRS Gives Some (But Not All) Employers More Time To Comply With ACA... With Conditions, Louisiana Law Blog, February 2014
Community Service
Graduate, Greater Shreveport Chamber of Commerce Leadership Program, 2009
Community Advisor, Feist-Weiller Cancer Center, LSU Health Shreveport
Board of Directors, Northwest Louisiana Interfaith Pharmacy
Usher and Oblationer, St. Mark's Cathedral (Shreveport)
Board of Trustees, The Montessori School for Shreveport