Diversity and Inclusion
People First. It's how we treat each other.

From our inception, Kean Miller has recognized the value of diverse ethnic, cultural and racial backgrounds. We are committed to promoting a culture of inclusion, not only within the firm, but in the communities where we live and work. The best evidence of this commitment is found in our statistics.

Kean Miller has one of the highest percentages of women attorneys and women partners of any major law firm in Louisiana and rank among Louisiana firms having the highest percentages of minority attorneys. Currently we have 38% women attorneys and 13% minority attorneys. Among partners, 26% are women and 10% are minorities.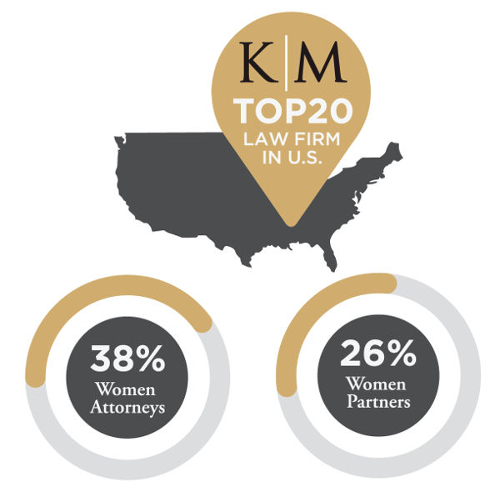 National and Local Recognition
Kean Miller is the highest-ranked Louisiana-based law firm in The American Lawyer's Diversity Scorecard 2016. Our score of 22.0 places us in the top 100 nationally.
We were recognized by the National Law Journal in its 2016 NLJ 500 survey of the nation's largest law firms as one of the top 20 firms in the United States for women attorneys. Our Women in Law score of 67.3 ranks us 145 spots ahead of our closest Louisiana-based competitor, and almost 200 spots ahead of some of the largest law firms based in the Bayou state.
Kean Miller's ongoing commitment to gender and ethnic diversity was featured in a 2016 edition of the Baton Rouge Business Report. Our percentage of female attorneys (43.5%) among our Baton Rouge lawyers is tops among the five largest law firms in the Capital Region.
We were named one of the top 10 law firms in the United States for black attorneys by Law360 in 2016. Kean Miller ranked fourth in the survey.
Kean Miller's diversity statistics were featured in a 2016 edition of Baton Rouge Business Report. The survey of Baton Rouge law firms recognized Kean Miller as the top law firm in the region for its number of minority attorneys and minority partners.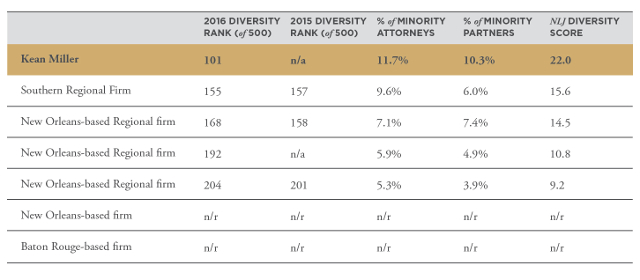 Diversity Council

The firm developed an active Diversity Council in 2003 to promote diversity awareness and initiatives within the firm and community. The Diversity Council includes attorneys from several practice areas, and representatives from our Management Committee, Recruiting Committee, Client Services team and Human Resources team. Kean Miller is a member of the Minority Corporate Counsel Association and participates in the many activities of the association.

Honors and Awards
In 2015, the Greater Baton Rouge Chapter of the Louis A. Martinet Society recognized the firm with the Dutch Morial Award at its 2015 Scholarship and Awards Gala.
The Louisiana State Bar Association has recognized Kean Miller with its Human Rights Award. The award recognizes the firm's many contributions in promoting diversity and inclusion in the legal profession, including the Kean Miller Connection program.

Kean Miller and the Southern University Law Center presented the Louisiana Diversity Forum in 2014. The forum offered a platform for distinguished guest speakers to provide their insights and ideas on topics related to diversity and inclusion.

The National Diversity Counsel presented Kean Miller partner, Linda Perez Clark, with its Most Powerful and Influential Women Award at the 5th Annual Louisiana Women's Conference in 2014. The Louisiana Women's Conference is an empowerment conference that focuses on highlighting the major issues and challenges that face working women today.
In 2013, Kean Miller and the Kean Miller Connection were recognized at the Louisiana State Bar Association Conclave on Diversity in the Legal Profession CLE. The "You Make a Difference" award was presented to the firm in recognition of our efforts to make the legal profession more inclusive, accessible, and professional.

In 2013, the Council on Legal Education Opportunity (CLEO) named the firm as an inaugural honoree of the William A. Blakey Diversity Pipeline Architects group. This group is comprised of law firms, corporations, associations, law schools, and individuals who have played a critical role in the financial viability of CLEO. The recognition is in honor of the late William A. "Buddy" Blakey. Mr. Blakey was CLEO's Council Chairman Emeritus, and he dedicated his life to creating an educational pipeline that was available to students who exhibited the interest and acumen to pursue a quality legal education.

Recruiting and Scholarships

Kean Miller continues to seek a more diverse environment by recruiting at all four law schools in Louisiana and regularly participating in state and regional minority law student job fairs. Among our 2016 summer law clerks, 59% were women and 12% were minorities. Among our 2015 summer law clerks, 39% were women and 9% were minorities. Of our class of new associates who started in September 2016, 33% are women.

The firm also encourages diversity in the profession by sponsoring law school scholarships awarded to minority law students at both LSU and Southern University law schools, hosting a law school preparatory program for college juniors and seniors who are from groups that are traditionally underrepresented in law school (The Kean Miller Connection) , and producing a Louisiana Diversity Forum for the business community.

We continue to emphasize recruiting efforts at the Southern University Law Center in Baton Rouge. Southern University is a Historically Black College/University (HBCU). Some of our efforts at Southern University Law Center include:

Establishing a recruiting plan specifically for minority law students at the Southern University Law Center through the Kean Miller Recruiting Committee.
Establishing full Kean Miller scholarship and several cash awards for top law students at the Southern University Law Center.
Participating in on-campus interviews at the Southern University Law Center by minority attorneys from Kean Miller.
Regularly participating in the Southeast Minority Job Fair and recruiting events.
Regular participant in the Louisiana State Bar Minority Job Fair.
Women's Initiatives
Kean Miller is an active supporter of women's initiatives and has been a primary sponsor of the
Baton Rouge Business Report's
Influential Women in Business award luncheon for seven years. The firm has also sponsored such events as the annual Women in Business seminar conducted by the Entrepreneurship Institute at LSU's E. J. Ourso College of Business. This Women in Business series is designed to provide skills and training specifically geared toward the special needs of female entrepreneurs as they plan and start businesses.
Loading the player...
Kean Miller Connection
Click here to see a video about the 2016 Kean Miller Connection law school preparatory program.
Conclusion

Kean Miller is proud of its historical commitment to diversity and looks forward to continuing that commitment, as well as pursuing new opportunities that encourage diverse perspectives. Finally, Kean Miller is an excellent place to work. Our people, our best critics, praise the work environment and the advantage of being in a situation where all individuals are treated with dignity and respect.