About Kean Miller
At Kean Miller, we know the value of people. People who care for their clients and each other. People who enjoy working together. And, people who give back to the communities where we work and live.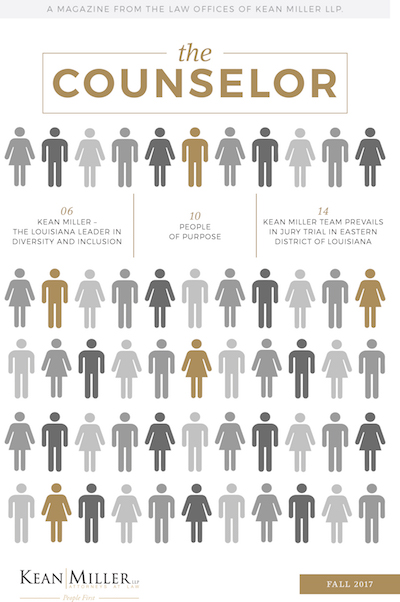 Profile
With 150 attorneys, Kean Miller is one of the largest full-service law firms in Louisiana, and the largest in the Capital Region. We serve the legal needs of the people, businesses, and industries that drive the Bayou State. We have particular dedication to serving Fortune 1000 companies with significant operations in the Gulf South, providing them with legal resources focused on growth. From the courtroom to the boardroom, our people provide creative solutions, unique strategies, and unparalleled value that allow our clients to perform at the highest level.
Industries
Kean Miller serves clients in numerous industries, including maritime, energy, petrochemicals, drilling and exploration, pipeline, technology, telecommunications, media, advertising, film and entertainment, retail, food and beverage, construction, contracting, banking, financial services, shipping and transportation, gaming, education, health care, manufacturing, refining and real estate.
Teams
Kean Miller combines the talents and expertise of our attorneys into multi-disciplinary client and industry teams. These teams are comprised of seasoned attorneys and professionals from a variety of disciplines who are equipped to identify the legal and business needs of the client. Our teams develop superior service strategies to provide unmatched support to the client.
Service Areas
Kean Miller assists clients in a variety of service areas, including business litigation, construction, environmental regulation, permitting, class action defense, banking and finance, admiralty and maritime, products liability, business transactions, mergers and acquisitions, real estate, intellectual property, patents and patent infringement, chemical exposure litigation, toxic tort defense, oil and gas, health law, medical malpractice defense, bankruptcy and reorganization, utilities regulation, labor and employment, state and local tax, legislative and administrative lobbying, estate planning, probate, municipal finance, and insurance coverage and recovery.

Know-how
Whether we are helping clients defend lawsuits, raise capital, comply with regulatory requirements, enter new markets, obtain or defend intellectual property rights, develop and distribute products and services, or acquire or divest businesses, we understand it is the client's goals that are paramount.
Dedication
Kean Miller has a particular dedication to working closely with Louisiana-based businesses and Fortune 1000 companies with significant operations in the Bayou State - ensuring that they have the people and resources required to grow into leaders in the region.
Results
Kean Miller's 34-year history is one of lasting alliances with our clients. Our partnerships are based on value, service, and unique Louisiana know-how. We diligently pursue results that allow our clients to outperform their competitors.
Why Kean Miller?
Check out Kean Miller on the Louisiana Business and Industry Show. Click here for the video.