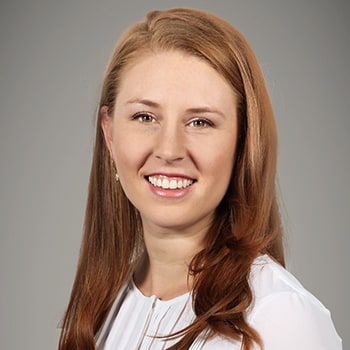 Jessica C. Engler, CIPP/US
Partner
Jessica Engler, CIPP/US, is a partner in the New Orleans office of Kean Miller. She joined the firm in 2013 and practices in the intellectual property, construction, and data security groups. Jessica has experience in the many aspects of intellectual property including patents, trademarks, trade secrets, trade dress, and copyrights.
Jessica's experience in intellectual property matters spans a wide range of technologies including electronic devices, medical devices, electric power protection, and construction materials. As a registered patent attorney, Jessica drafts, files, and prosecutes patents before the United States Patent and Trademark Office in various technologies and industries including electronics and circuit design, power systems designs, medical devices, manufacturing, and consumer and industrial products. In addition to the experience in filing and prosecuting applications to obtain intellectual property rights, she has experience in drafting assignment and licensing agreements concerning the various intellectual property rights.
Jessica's technical background is also utilized in her data security practice, where she advises clients on data breaches and privacy-related legal challenges. She assists clients in responding to breaches, evaluating corporate compliance, assessing prevention strategies, performing third party vendor risk assessments, and creating incident management plans. Jessica also defends clients that are threatened with litigation after a breach.
As a practitioner in the firm's construction group, Jessica has also assisted with the litigation of building defect claims and payment disputes, defense of professionals before LAPELS, public bid protests, and evaluation of construction contracts. Jessica is experienced in mediation and arbitration, including international arbitration.
Jessica has been awarded the ANSI-accredited Certified Information Privacy Professional for the U.S. Private Sector (CIPP/US) designation by the International Association of Privacy Professionals (IAPP) in January 2018.
Jessica is recognized as a Rising Star by Louisiana Super Lawyers, 2020-2021 and is listed in The Best Lawyers in America as a One to Watch for 2021. In 2021, Jessica was awarded the Frank L. Maraist Award by the Louisiana Association of Defense Counsel. Jessica was recognized as a member of the New Orleans City Business Magazine Leadership in Law class for 2021.
Jessica currently serves as the Young Lawyer Liaison Chair to the DRI Cybersecurity and Data Privacy Committee and Chair of the IAPP KnowledgeNet New Orleans Chapter.

Representative Experience
Data Security & Privacy
Management of numerous companies' data breach responses, including developing strategies to understand what happened, contain the incident, address regulatory requirements, and minimize the likelihood of regulatory investigations and litigation. Companies that have used Jessica's data breach management services include accounting firms, direct-to-consumer products, energy and utility companies, and surveying services.
Representation of numerous clients in evaluating vendor management and evaluating data privacy risks
Provided advice and assistance to clients on a number of data security and compliance issues, including the EU General Data Protection Regulation (GDPR), the California Consumer Privacy Act (CCPA), the Children's Online Privacy Protection Act (COPPA), Gramm-Leach Bliley Act (GLBA), the Federal Trade Commission (FTC) Act, and various state regulations
Preparation of privacy policies and terms of use for companies of all sizes in various industries. Clients have included Fortune 500 companies numerous smartphone applications, a social media application, an art museum, restaurants and several other businesses.
Drafting and negotiating complex vendor contracts, including provisions that address data collection, use, ownership, sharing, protection and destruction, incident response expectations, cybersecurity training and cyber insurance
Assisting in the drafting of employee policies related to cybersecurity, including Bring Your Own Device (BYOD) policies and Remote Work Policies.

Intellectual Property
Prosecution for clients in numerous industries including software applications, electrical devices and electronics, household and consumer grade appliances, medical devices, oil field and natural gas field solutions, satellite communication mechanisms, food service, and other industries
Prosecution of trademark applications before the United States Patent and Trademark Office
Prosecution of copyright applications before the United States Copyright Office
Representation of patent application in appeals of examiner rejections before the patent Trial and Appeal Board
Representation of Enterprise Resource Planning software vendor in breach of software license dispute
Defense of an independent clothing merchant against claims of trademark infringement, copyright infringement, and trademark dilution
Defense of clients in responding to cease and desist letters and litigation from both practicing and non-practicing entities ("patent trolls")
Representation of clients in unfair trade practice and trade secret misappropriation disputes
Counseling clients on the Digital Millennium Copyright Act (DMCA) issues including steps to be taken to be compliance with the DMCA Safe Harbor provisions
Drafting and negotiating software as a service agreements, software license agreements, nondisclosure agreements, patent licenses and assignments, copyright work for hire agreements, and other intellectual property agreements

Construction Litigation
Defense of contractors, subcontractors, architects, and other professionals and negotiated resolutions in payment and construction disputes
Defending awards of state government contracts in public bid disputes and protests
Representation of engineers before the LAPELS Board in licensure issues and proceedings
Representation of federal government contractor in international arbitration concerning payment dispute related to construction of a United States embassy
Education
Jessica earned her B.S. in Electrical Engineering from Louisiana State University in 2010. She earned her J.D./D.C.L. from the LSU Law Center in 2013, where she was managing editor and a founding member of the LSU Journal of Energy Law and Resources and Moot Court board member. Jessica was named to the Chancellor's List and received the CALI award in Federal Complex Litigation, Patent Law and Legal Research and Writing. She was also a finalist in the Tullis Moot Court competition and awarded best brief.
Admissions
Admitted, Louisiana, 2013; Texas, 2019; United States District Courts for the Middle, Eastern and Western Districts of Louisiana; Fifth Circuit Court of Appeals; United States Patent and Trademark Office
Memberships
New Orleans, Louisiana State, Federal and American Bar Associations; Institute of Electrical and Electronics Engineers (IEEE); Louisiana Association of Defense Counsel (LADC); International Association of Privacy Professionals (IAPP)
Articles, Publications and Presentations
Satanic Panic? Trademark Law's Collision with the First Amendment, Intellectual Property Law Blog, April 9, 2021
The Trademark Modernization Act of 2020 Adds New Tools to Fight Unused Trademarks and Implied Presumptions for Trademark Infringement Plaintiffs, Intellectual Property Blog, January 15, 2021
A Work from Home or In Office Essential: Cyber Insurance, Louisiana Law Blog, July 7, 2020
When Pivoting Your Business, Don't Leave Your Privacy Policy Behind, Intellectual Property Law Blog, May 1, 2020
People are Seriously Trying to Trademark "Coronavirus", Intellectual Property Law Blog, April 23, 2020
Cybersecurity Considerations for an Increasingly Remote Workforce, Louisiana Law Blog, April 6, 2020
Construction Interrupted: COVID-19's Legal Impacts and Considerations for the Construction Industry, Louisiana Association of Defense Counsel Newsletter, April 2020
HIPAA Privacy Rule Regulatory Response to COVID-19, Louisiana Law Blog, March 22, 2020
Co-Presenter, Protecting Your Business & Employees From the Impact of COVID-19, Kean Miller Webinar, March 19, 2020
The court of data security, Baton Rouge Business Report Daily Report, January 7, 2020
First Steps in Starting Your Data Privacy Law Practice, For the Defense, October 2019

Texas Updates Its Data Breach Notification Law, Texas Law Blog, August 9, 2019

Data Breach One Year Later: Louisiana's Database Security Breach Notification Law 2.0, Louisiana Bar Journal, August/September 2019

Texas Supreme Court: Appraisal Awards Not a Bar to TPPCA Delay Damages, Louisiana Law Blog, July 25, 2019

Sixth Circuit Opinion Highlights the Importance of Indemnity Clauses and Consequential Damages Waivers in Data Vendor Agreements, Louisiana Law Blog, June 17, 2019

2019 Data Security and Privacy Law Update, IAPP and New Orleans Bar Association CLE, May 30, 2019

Using Social Media Influencers or Employees to Tout Your Business? Make Sure They Follow the Rules, Louisiana Law Blog, December 26, 2018

New Canadian Breach Notification and Reporting Requirements are Now in Effect, Louisiana Law Blog, November 12, 2018

Data Breach Notification 2.0: Updates to Louisiana's Breach Notification Laws, Kean Miller Hospitality Forum, New Orleans, October 2018
Louisiana Governor Signs Significant Changes to Louisiana's Database Security Breach Notification Law, Louisiana Law Blog, May 29, 2018
Eastern District of Louisiana: Total Work Stoppage Not Necessary for Eichleay Recovery of Extended Home Office Overhead, Louisiana Law Blog, December 28, 2017
Information Security, Data Privacy and Liability Issues, Business Attorney's Guide to Information Technology for the National Business Institute, New Orleans, Louisiana, December 18, 2017
The Defend Trade Secrets Act at Year One, In-House Quarterly (DRI), Fall 2017
Standing on Shaky Ground: Methods Used By and Roadblocks Facing Data Breach Litigation Plaintiffs, Kean Miller Business Briefing, April 28, 2017
Crossroads of Technology & Law, April 20, 2017
Kean Miller Data Security Alert: W-2 Phishing Scam Returns for Tax Season, Louisiana Law Blog, February 22, 2017
Unwelcome "Walk-Ins": Data Security Concerns for Hotels, HFTP New Orleans Chapter Meeting, February 15, 2017
If You Build It, They May Hack: Data Privacy & Cybersecurity FAQs for the Construction Industry, Louisiana Law Blog, December 15, 2016
HHS OCR: Ransomware Attacks Usually Qualify as a HIPAA Breach, Louisiana Law Blog, August 10, 2016
The New Defend Trade Secrets Act of 2016 Provides Federal Remedies for Trade Secret Misappropriation, Louisiana Law Blog, May 11, 2016
New Federal Regulations Seek Federal Contractor Assistance with Preventing Human Trafficking, Louisiana Law Blog, April 20, 2015
Community Service
Chair, IAPP KnowledgeNet New Orleans Chapter

Member, Junior League of New Orleans

Young Lawyer Liaison Chair, DRI Cybersecurity and Data Privacy Committee
Board of Directors and President of the New Orleans Regional Council, Sexual Trauma Awareness & Response (STAR)