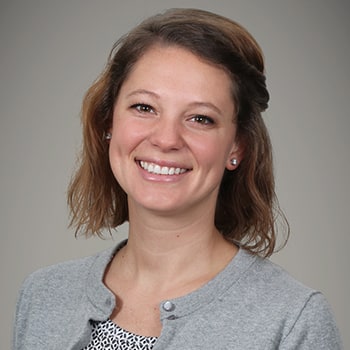 Lauren J. Rucinski
Senior Associate
Lauren Rucinski is a senior associate in the Baton Rouge office of Kean Miller. She joined the firm in 2016 and practices in the environmental law and intellectual property groups.
Lauren helps clients navigate environmental regulatory applicability for new and existing facilities and expansion projects. Her practice spans permitting, compliance, enforcement, litigation, and transactional issues, as well as rulemaking efforts at both the state (Louisiana Department of Environmental Quality) and federal (U.S. Environmental Protection Agency) level. Lauren also advises clients on the U.S. Army Corp of Engineers/Clean Water Act Section 404 dredge and fill permitting process. She has experience in the National Environmental Protection Act ("NEPA") program and similar state level programs, as well as in environmental justice issues and renewable energy opportunities. She advises a wide range of clients including petrochemical facilities, oil refineries, natural gas terminals, solar farms, and commodity processing plants.
Lauren helps clients protect and maximize the value of their businesses' intellectual property by advising them on all aspects of patent, trade secret, copyright, trademark, and unfair competition law. She is a registered Patent Attorney. Her practice includes patent prosecution, opinions, licensing, and counseling services. Her work spans a wide range of technical areas, including mechanical inventions, computer software, construction materials, and other compositions of matter.
Lauren combines her legal experience with her background in Aerospace Engineering and Ocean Engineering to further the Intellectual Property interests of her clients. She is licensed to practice before the United States Patent and Trademark Office. She is listed in Louisiana Super Lawyers as a Rising Star for 2022-2023 and The Best Lawyers in America as a One to Watch for 2024.
Representative Experience
Representation of a chemical and plastic products company regarding their compliance with Louisiana state and U.S. Environmental Protection Agency regulations
Prepare comments to EPA rulemaking on behalf of Louisiana industry groups
Representation of oil refinery regarding compliance with environmental laws and defense in administrative enforcement proceeding
Perform environmental due diligence for Louisiana chemical company merger and acquisition
Provide environmental permitting advise for solar farm development in Louisiana
Representation of an international oilfield services provider in defense of allegations of patent infringement, trade secret misappropriation, and various business torts
Management of a Louisiana University's patent portfolio, including prosecution, maintenance, and USPTO Examiner negotiations
Education
Lauren earned her B.S. in Aerospace Engineering and Ocean Engineering with a minor in Green Engineering from Virginia Polytechnic Institute and State University in 2013. She earned her J.D./D.C.L., magna cum laude, from the LSU Law Center in 2016, where she was a member of the Order of the Coif, the Louisiana Law Review, and the Civil Mediation Clinic. Lauren also served as the President of the Public Interest Law Society and received the Louisiana State Bar Association's 2016 Law Student Pro Bono Award.
Admissions
Admitted, Louisiana, 2016; United States Federal Court for the Eastern, Western and Middle Districts of Louisiana; United States Fifth Circuit Court of Appeals; United States Court of Appeals for the Federal Circuit; United States Patent and Trademark Office
Memberships
Baton Rouge Bar Association (Young Lawyers Section Council Member, 2019; Law Day Co-Chair, 2020, 2019; Committee, 2018); Louisiana Air & Waste Management Association (Secretary 2020-2022; Newsletter Committee, 2019); Leadership Council on Legal Diversity Pathfinder

Articles, Publications and Presentations
Court Finds that Addressing Cumulative Impacts of Air Toxics Required for Air Permitting in Louisiana, Louisiana Law Blog, September 21, 2022
Addressing Cumulative Impacts of Air Toxins in Air Permitting, Air & Waste Management Association's Annual Conference & Exhibition, June 28, 2022
Emergency Use Authorizations for Coastal Use and Dredge/Fill Permits to Address Impact of Hurricane Ida, Louisiana Law Blog, August 31, 2021
Chemical Manufactures Agree to $50M Settlement for PFAS Remediation, Louisiana Law Blog, July 15, 2021
Environmental Self-Audit Legislation Passes the House and Senate, Louisiana Law Blog, June 9, 2021
$2.175 Billion - With A "B" - Verdict In Patent Infringement Case, Intellectual Property Law Blog, March 4,2021
Patent Law 101, Baton Rouge Bar Association CLE By the Hour, December 14, 2020
Hold On To Your Boilers: The Tenth Circuit May Have Re-Defined Covered Processes Under PSM Regulation, Louisiana Law Blog, November 3, 2020
Release Reporting, AWMA Louisiana Section Webinar, September 1, 2020
Louisiana Special Hurricane Reporting Requirements for Hazardous Materials, Louisiana Law Blog, August 25, 2020
Bookings.com: Supreme Court Rejects Bright-Line Rule on Generic Terms, Louisiana Law Blog, July 9, 2020
Sellers and Distributors of Disinfectants Beware: The Virus Causing COVID-19 Is a "Pest" Under FIFRA, Louisiana Law Blog, May 7, 2020
U.S. Dept. of Health and Human Services Makes it Illegal to Hoard Certain PPE, Ventilators and Sanitizing/Disinfecting Products, Louisiana Law Blog, March 30, 2020
Louisiana Department of Environmental Quality Issues COVID-19 Order, Louisiana Law Blog, March 19, 2020
Chemical Safety Board's New Release Reporting Rules in Effect March 2020, Louisiana Law Blog, March 11, 2020

The New Wave, EPA and ACE Release the Proposed Definition of "Waters of the United States", Louisiana Law Blog, December 18, 2018

Pipeline Permitting and Litigation Roundup, Kean Miller Environmental CLE, Houston, Texas, September 14, 2018
Much Ado About Patents, Baton Rouge Lawyer Magazine, June 2018
How to Avoid Losing Your Rights to the "Work for Hire Doctrine", New Orleans Canvas Magazine, January 1, 2018
Net Neutrality Repealed: What it Means for Business, Louisiana Law Blog, December 15, 2017
EPA Approves Emergency Fuel Waiver for Areas in Louisiana in Response to Hurricane Harvey, Louisiana Law Blog, August 30, 2017
Offensive Trademarks and Protected Under the First Amendment, IntellectualProperty.Law, June 23, 2017
Supreme Court Restricts Patent Infringement Venue, Upsets Eastern District of Texas "Rocket Docket", IntellectualProperty.law, June 13, 2017
A Plethora of Cases Could Affect WOTUS Rulemaking, Louisiana Law Blog, June 1, 2017
Federal Circuit Clarifies, Bolsters On-Sale Bar, Louisiana Law Blog, May 23, 2017
Silicone Facility to Pay $1.5M in Fines for Monitoring and Reporting Violations, Louisiana Law Blog, May 16, 2017
Supreme Court Reverses and Remands on Award of $399 Million to Apple, Intellectual Property Law Blog, December 7, 2016
Putting the House Back Together Again: The Scope of Copyright Protection for Architectural Works, 76 La. L. Rev. (2015)
Community Service
Board Member, Public & Industry Relations Director: Lafayette & Baton Rouge, Women's Energy Network South Louisiana Chapter, 2019
Board of Trustees, Boys & Girls Club of Greater Baton Rouge, 2020-2021
Parish Advisory Council, Boys & Girls Club of Metro Louisiana, 2022-2023
Boys and Girls Club of Metro Louisiana, Annual Baton Rouge Fundraising Dinner Chair, 2021, 2022, 2023
Board Member, We Produce Grads, 2018-2021
Co-Chair, Baton Rouge Bar Association, Law Day