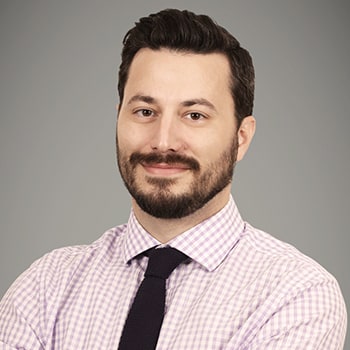 Tod J. Everage
Partner
Tod Everage is a partner in the New Orleans office of Kean Miller. He joined the firm in 2011 and practices in the Offshore Energy and Maritime Litigation Practice Group. Tod's practice primarily involves representing oil and gas operators (offshore, midstream, and onshore) and their service providers and contractors in litigation in both state and federal courts. Tod has gained extensive experience representing vessel owners, shipyards, and diesel engine service providers in warranty claims. Tod's practice also includes assisting clients in contract review, drafting, negotiations, transactional disputes, and general corporate advices. Tod has tried several cases to verdict as well as handled multiple appeals in both state and federal forums. Tod serves as outside general counsel to several oilfield service companies, providing a wide-range of consulting and legal advices to them. Recently, Tod has been involved in advising clients regarding Deepwater Port Act, including drafting and filing applications for a Deepwater Port License to operate an offshore crude export terminal.
Tod is the editor of Kean Miller's Maritime and Energy E-Bulletin, a quarterly email newsletter updating Kean Miller's clients on recent court decisions and regulatory updates affecting the Energy and Maritime industries. Tod is also a frequent contributor to Kean Miller's Louisiana Law Blog. Tod is a member of the firm's recruiting committee and also holds several board positions outside of the practice of law. At his prior firm, Tod practiced in the area of Commercial Litigation, representing banks and lending institutions.

Tod has been listed as a Rising Star by Louisiana Super Lawyers, 2016-2019 and selected by New Orleans CityBusiness as a 2020 Leadership in Law Award recipient.
Representative Experience- Litigation
Trial experience representing offshore supply vessel company in federal bench trial against claims of personal injury due to allegedly negligence vessel operations
Trial experience representing shipyard client in federal jury trial on claims of breach of warranty of workmanlike performance, maritime negligence, and breach of contract claims related to vessel refurbishment
Trial experience representing diesel engine repairer in federal bench trial on claims of breach of warranty of workmanlike performance and breach of contract
Trial experience representing offshore oil platform owner in litigation and jury trial against wrongful death and personal injuries claims associated with offshore explosion and fire
Trial experience representing property owners in challenge to local zoning ordinances
Trial experience representing home owners in petitory action dispute, involving issues of acquisitive prescription and allegations of precarious possession
Represented leaseholders before the Louisiana State Energy & Mineral Board
Represented leaseholders in contract disputes over ownership of state lease and production platform
Experience in maritime attachment and vessel arrest proceedings on behalf of lienholders and vessel owners
Obtained summary dismissal of claims against offshore production contractor in federal court, including handling oral argument on appeal at US Fifth Circuit, resulting in dismissal being affirmed by appeal court
Obtained summary dismissal of claims against offshore platform owner against allegations of premises liability in maritime personal injury suit
Obtained summary dismissal of custom boat builder against allegations of products liability in serious maritime death case
Obtained summary dismissals of oil companies both onshore and offshore asserting independent contractor defense in various personal injury cases
Experience litigating and negotiating contractual disputes involving defense and indemnity issues and additional insured provisions
Experience representing offshore oil and gas platform owners and operators in defense of personal injury claims and in prosecution of property damage claims associated with well blowouts, vessel allisions, personnel basket transfers and other issues, including analysis of defense and indemnity issues under relevant contracts
Experience in representing drilling companies and oil companies in lawsuits filed by offshore workers based on the Jones Act, General Maritime Law, Louisiana state law and the Longshore and Harbor Workers' Compensation Act (LHWCA)
Experience in representing vessel owners, manufacturers, and shipyards in catastrophe casualty claims in products liability, property damage, and vessel allision and collision cases
Experience representing pipeline owners in disputes over servitudes (right-of-ways), pipeline damages, contractual disputes
Experience in preparing and arguing federal and state court appeal briefs and arguments
Representative Experience- Transactional and Regulatory
Serving a legal advisor and representative in the preparation of a Deepwater Port Act License Application filed with MARAD and US Coast Guard to obtain a license to construct, own, and operate an offshore crude oil export terminal
Experience in drafting, reviewing, and negotiating Master Service Agreements, Subcontracts, Charter Agreements, Non-Disclosure Agreements, and other vendor contracts related to the oilfield, maritime environment and construction industry
Assisted in formation and initial startup of several midstream service companies, as well as provide regular corporate and transactional advices relevant to their businesses
Experience negotiating with US Coast Guard related to vessel detentions
Education
Tod earned his B.S. in Biology from Louisiana State University in 2004. He earned his J.D., cum laude, from the Loyola University New Orleans College of Law in 2009, and was a William L. Crowe Scholar. While at Loyola, Tod served as an advocate, coach and later Executive Board member in the Loyola Trial Advocacy Program.
Admissions
Admitted, Louisiana, 2009; Texas, 2018; United States District Courts for the Eastern, Middle and Western Districts of Louisiana; United States Court of Appeals, Fifth Circuit; United States District Court for the Southern District of Texas; United States Court of International Trade
Memberships
New Orleans Bar Association (NOBA), Louisiana State Bar Association (LSBA), American Bar Association (ABA); Federal Bar Association (FBA); Federal Bar Association - Young Lawyers Division – Board of Directors (2015-2019); Young Leadership Council (YLC); Offshore Marine Services Association (OMSA); New Orleans Mariner's Club; Young Pipeline Professionals; Louisiana Dig Law Advisory Committee; Institute for Energy Law (IEL) - Advisory Board Member, IEL Young Energy Professional (YEP) Executive Board - Secretary; YEP Newsletter Subcommittee Member; YEP Programs Committee Co-Chair; IEL Leadership Class Participant (2019-20)
Articles, Presentations, Publications
BOEM Begins Key Environmental Assessment In Preparation for Offshore Wind Development in the GOM, Louisiana Law Blog, January 13, 2022
Biden Administration "Pauses" Oil and Gas Leases and Permits, Industry Responds, Louisiana Law Blog, January 29, 2021
Coast Guard Proposes to Clean Up Environmental Regulations Governing Tankers, Louisiana Law Blog, May 15, 2020
From Bow to Stern: A Quick Look at Maritime Litigation, IEL YEP National Conference, San Antonio, TX, April 2019
Update: Supreme Court Rejects Punitive Damages for Unseaworthiness Claims, Louisiana Law Blog, June 24, 2019
Your Real Legal Education Starts After You Graduate, The Energy Dispatch, Issue 5, April 2019
UPDATE: Supreme Court grants writs in Dutra v. Batterton, Louisiana Law Blog, December 19, 2018
Be Careful How You Word Your Contracts and Complaints: 5th Circuit Silences "Prevailing Party" Fee Provision in JOA Dispute, Louisiana Law Blog, December 4, 2018
U.S. Fifth Circuit's New Doiron Test Finds P&A Contract to be Maritime, but What if the Work Occurred on the OCS?, Louisiana Law Blog, July 19, 2018
U.S. 5th Circuit Addresses McCorpen, Unseaworthiness, and OSHA Preemption in Recent Case, Louisiana Law Blog, April 13, 2018
Majority of EDLA Judges Acknowledge Continued Viability of Scarborough to Bar Punitive Damages Against Third Parties in Jones Act Cases, Louisiana Law Blog, February 9, 2017
Out with Davis and Sons and in with Doiron: The 5th Circuit Simplifies Maritime Contract Test, Louisiana Law Blog, January 9, 2018
Eyes on the Bayou: The Future of Offshore Regulation Begins in Louisiana, The Energy Dispatch Issue 1, December 2017
On First Impression, U.S. 5th Circuit Recognizes its Jurisdiction to Review Summary Judgement Denials on Legal Issues Even After a Jury Trial, Louisiana Law Blog, July 7, 2017
BOEM Announces Proposal to Sell 73 Million Acres of Gulf of Mexico Leases, Louisiana Law Blog, March 22, 2017
U.S. 5th Circuit: Plaintiffs Can Recover Only LHWCA Medical Benefits Paid, Not Billed, Louisiana Law Blog, December 6, 2016
U.S. 5th Circuit Affirms That Tension Leg Platforms (TLP's) are not Vessels, Louisiana Law Blog, August 29, 2016
Helpful Information for FEMA Aid and Flood Claims, Louisiana Law Blog, August 16, 2016
EDLA Confirms that LHWCA Medical Benefits are not Subject to Collateral Source Rule, Louisiana Law Blog, June 6, 2016
Update: Fights Continue Over the Availability of Punitive Damages In Maritime Cases, Louisiana Law Blog, April 25, 2016
Non-Signatories to Master Service Agreement Can Benefit from Louisiana's Statutory Employer Defense Says U.S. Fifth Circuit, Louisiana Law Blog, April 11, 2016
Louisiana Appeals Court Acknowledges Preemption of State Law Over Parish Zoning Ordinances in Fracking Fight, Louisiana Law Blog, March 11, 2016
U.S. 5th Circuit Holds that Platform Decommissioning Operations Fall Under Louisiana Oilfield Indemnity Act, Louisiana Law Blog, March 7, 2016
Fights Continue Over the Availability of Punitive Damages in Maritime Cases, Louisiana Law Blog, December 21, 2015
EPA Extends Public Comment Period on Proposed Rulemaking for Fracking Wastewater, Louisiana Law Blog, June 2, 2015
Update: U.S. Supreme Court Denies Writs in McBride v. Estis Well Service, Louisiana Law Blog, May 28, 2015
EDLA Judge: Punitive Damages are Unavailable to Plaintiffs Injured on the Outer Continental Shelf as a Matter of Law, Louisiana Law Blog, March 31, 2015
Failure by One Plaintiff (Out of Four) in Consolidated Litigation to Adequately Plead Admiralty Jurisdiction Lost Bench Trial for All, Louisiana Law Blog, March 30, 2015.
11th Circuit Rejects Long-Standing 5th Circuit Barbetta Rule Thereby Allowing Passengers to Sue Shipowners for the Negligence of its Medical Staff, Louisiana Law Blog, December 10, 2014.
Eastern District of Louisiana Adopts Definition for "Perlis of the Sea" for Seaman Status Analysis, Louisiana Law Blog, January 2014
U.S. Fifth Circuit Holds that OCSLA Removal is Proper in Maritime Cases, Louisiana Law Blog, May 2013
Community Service
Board Member, Institute of Energy Law
Board Member, Lafayette Square Conservancy
Board Member, Federal Bar Association, Young Lawyers Division
Volunteer, Audubon Nature Institute
Volunteer, Father Harry Tompson Center
SOLACE