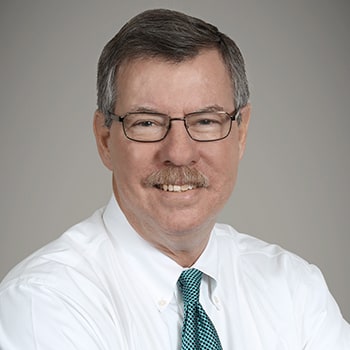 William W. Ogden
Of Counsel
Bill Ogden is of counsel to the Houston office of Kean Miller. He joined the firm in 2017 and practices in the trial and appellate groups. He has extensive courtroom and appellate experience in a wide range of commercial litigation, with concentration in communications and First Amendment law, employment litigation, financial services and energy law. Bill is Board Certified in Civil Appellate Law by the Texas Board of Legal Specialization. He is one of the foremost First Amendment attorneys in the state of Texas having represented traditional media such as newspapers, broadcasters, journalists and book publishers, as well as internet content providers and international technology companies.
Bill has been selected for inclusion in The Best Lawyers in America in the field of First Amendment law for over 30 years (1991-2024) and has been recognized among the Texas Super Lawyers in every year of voting from 2003-2020. He is AV-rated by Martindale-Hubbell.
Representative Experience
Representation of a major metropolitan newspaper, two book publishers and three television broadcasters in multiple libel, privacy and intellectual property cases in courts across Texas, including six successful decisions in the Texas Supreme Court
Representation of a global transportation company in connection with administrative and court proceedings in multiple Texas counties to protect trade secrets under the Texas Public Information Act
Representation of the nation's largest automated teller machine (ATM) network operator in defense of claims arising from multiple distributor agreements in Mexico
Representation of major interstate pipeline company in successful jury verdict, affirmed on appeal, on multiple claims for breach of contract and tortious interference with municipal gas supply contracts to the City of Alexandria, Louisiana
Representation of media client in defense of libel and invasion of privacy claims before the Fifth Circuit and on certified question to the Texas Supreme Court, resulting in case of first impression on non- recognition of false light privacy doctrine in Texas
Representation of premier national research university in successfully defeating multiple claims for lack of personal jurisdiction
Representation of trust department of major national bank in obtaining favorable jury verdict on multiple claims for breach of trust and violation of fiduciary duties in connection with administration of complex testamentary trust
Representation of the nation's largest waste disposal company in defense of unfair competition and product disparagement claims
Education
Bill earned his B.A. with highest honors from the University of Texas in 1974. He earned his J.D., with honors from the University of Texas at Austin School of Law in 1977, where he was a member of the Texas Law Review and Order of the Coif.
Admissions
Admitted, Texas; Texas Supreme Court; United States Supreme Court; U.S. Fifth Circuit Court of Appeals; United States District Courts for the Southern, Northern, Eastern and Western Districts of Texas
Memberships
Houston and Texas State Bar Associations; Texas Bar Foundation (Sustaining Life Fellow); Houston Bar Foundation (Sustaining Life Fellow); Texas Association of Civil Trial and Appellate Specialists
Community Service
Trustee, Texas Supreme Court Historical Society
Member, Board of Directors, Texas Center for Legal Ethics
Former Director, State Bar of Texas (District 4. Position2, 2008-2011)
Former Director, Houston Volunteer Lawyers Program
Member and Past Chairman, Houston Bar Association Law and Media Committee
Recipient, Houston Bar Association President's Award (1993, 2016)
Recipient, James Madison Award, Freedom of Information Foundation of Texas (1991)
Volunteer and Job Search Instructor, Memorial Assistance Ministries
Advisory Director, Freedom of Information Foundation of Texas