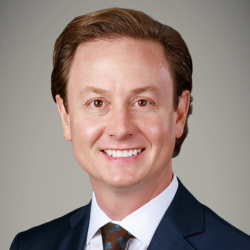 Benn Vincent
Partner
Benn Vincent is a partner at Kean Miller and practices in the firm's litigation group. He represents local, national and international energy and industrial clients in cases involving a wide variety of substantive areas such as tax litigation, oil and gas litigation, NORM, environmental litigation, toxic tort, breach of contract, construction and commercial litigation, and warranty and products liability suits.
Applying his litigation skills outside of the courtroom, Benn was part of a team that negotiated and drafted the contract for the creation of a new oil and gas exploration and production company for one of Louisiana's largest landowners.

Benn is listed in The Best Lawyers in America and as a Rising Star in Louisiana Super Lawyers. He is a graduate of the Baton Rouge Business Report's Executive Leadership Academy.

Representative Experience
Representation of energy companies in legacy oil field lawsuits, including trials, Act 312 Agency hearings, mediations, and settlement discussions which have resulted in favorable jury verdicts, agency outcomes, settlements and outright dismissals of claims
Representation of landowners in claims for acquisitive prescription
Representation of timber companies in boundary disputes and timber piracy claims
Representation of wood products manufacturing companies in the prosecution and defense of claims for breach of contract
Representation of chemical manufacturing companies in contract disputes, personal injury, and joint venture claims
Representation of major and independent oil and gas exploration and production companies in oilfield site claims alleging soil contamination, groundwater contamination, and alleged drinking water aquifer impacts
Representation of physicians, healthcare providers and emergency medical transport providers against allegations of malpractice in medical review panel proceedings, courtroom litigation, and trials
Representation of companies and general liability carriers in cases involving personal injury tort claims
Representation of owners, contractors and subcontractors in construction and Louisiana lien litigation
Representation of municipalities and law enforcement agencies in civil rights and general liability matters
Negotiation of remediation projects with the Louisiana Department of Natural Resources and the Louisiana Department of Environmental Quality

Education
Benn earned his B.A., cum laude, from Tulane University. He earned his J.D./B.C.L. from the LSU Law Center where he was Chairman of the Moot Court Board.
Admissions
Admitted, Louisiana; Texas, 2019; United States District Courts for the Eastern, Middle and Western Districts of Louisiana; United States Court of Appeals, Fifth Circuit; Louisiana Supreme Court; All State District and Appellate Court of Louisiana
Memberships
Baton Rouge, Louisiana State (Environmental Law and Civil Law & Litigation), American (Environment, Energy & Resources Section) and Federal Bar Associations; Louisiana Oil and Gas Association; Boys Scouts of America; National Eagle Scout Association; First Presbyterian Church; YMCA: Opera Louisiane; Baton Rouge City Club; LSU Law Center Chancellor's Council; Tulane Alumni Association; Tulane Louisiana Council
Articles, Publications and Presentations
Latest Energy and Environmental Law Developments in the 2023 Louisiana Legislative Session, Louisiana Law Blog, July 18, 2023
Recent Developments in Oilfield Legacy Remediation and Litigation, A Kean Miller Environmental CLE, September 14, 2018
Louisiana "Legacy" Litigation: A Primer and Comparative Review, Stay Out of Hot Water, A Kean Miller CLE, April 19, 2018
Post Trial Motions: Articulating the Standards for JNOV vs. New Trial, LSU Paul M. Hebert Law Center, Center for Continuing Professional Development, Fundamentals of Civil Litigation
Louisiana Wetlands Litigation Overview
Living Wills and Advanced Directives, Plaquemine Study Club

Community Service
First Presbyterian Church
YMCA Youth Baseball Coach
Community Fund for the Arts
Opera Louisiane
Boy Scouts of America, Secretary, Law Merit Badge Instructor

Order of the Arrow

Reported Cases
Gonzales v. Kissner, 24 So. 3d 214 (La. App. 1st Cir. 09/11/06).
Hall v. Fidelity Bank and Trust Co., 2008 WL 607598 (La. App. 1st Cir. 02/20/08).
Hardy v. A. Wilbert's Sons, L.L.C., 970 So.2d 1063 (La. App. 1st Cir. 09/19/07).
State Machinery & Equipment Sales, Inc. v. Iberville Parish Council, 952 So. 2D 77 (La. App. 1st Cir. 12/28/06).
Gaspard One, L.L.C. v. B P America Production Co., 2008 WL 465813 (W.D. La. 2008).
Super Lawyers