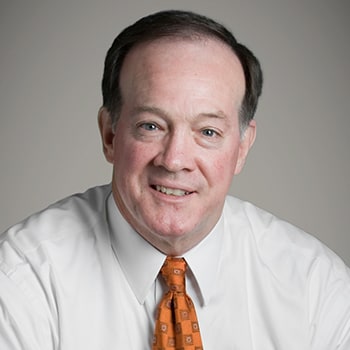 Charles R. Talley
Partner
Chuck Talley is a partner in the New Orleans office of Kean Miller. He practices in the admiralty and maritime, and oil and gas practice groups. Chuck has particular experience in admiralty and maritime law, personal injury defense, including defense of Jones Act seaman claims, property damage claims, Corbello litigation, appeals, and oil & gas law. He has more than 31 years of trial and appellate experience before state and federal courts throughout the United States.
Chuck is listed in Louisiana Super Lawyers, 2008-2023. He is also listed in The Best Lawyers in America, 2015-2024 and is AV-rated by Martindale-Hubbell.
Chuck was selected by New Orleans CityBusiness as a 2014 Leadership in Law Award recipient.
Representative Experience
Representation of an oil and gas company in a dispute involving damage to an oil and gas reservoir
Representation of a pipeline company against oil and gas company for the destruction of an offshore oil and gas platform as well as eight deaths and multiple personal injuries
Representation of an oilfield service contractor in a contractual dispute with an oil and gas company for rights and the development of an LNG facility
Representation of clients in several matters involving alleged damages to oyster beds and lease
Representation of commercial diving companies servicing the maritime and oil & gas industries in defense of personal injury and death claims
Representation of an offshore drilling rig manufacturer in numerous lawsuits evolving from the collapse of an offshore drilling rig during a hurricane
Education
Chuck earned B.A., magna cum laude, from Vanderbilt University in 1978. He earned his J.D. in 1981 from Florida State University where he was a member of the Florida State University Law Review and served as Articles and Notes Editor.
Admissions
Admitted, Louisiana and Florida, 1981; United States District Courts for the Eastern, Middle and Western Districts of Louisiana and the Middle District of Florida; United States Court of Appeals, Fifth Circuit
Memberships
Louisiana State, Florida State and Federal Bar Associations; Mariners Club for the Port of New Orleans; Maritime Law Association; Houston Mariners Club; Risk and Insurance Management Society
Articles, Publications and Presentations
Contributor, The Legal Quagmire: Courtroom battles threaten local project timelines, 10/12 Industry Report, May 31, 2022
Co-Presenter, Navigating the Uncharted Legal Realities of COVID-19, Kean Miller Webinar, May 7, 2020
Offshore Marine Service Association's (OMSA) Guidelines for the Prevention and Mitigation of COVID-19 on Vessels, Louisiana Law Blog, April 20, 2020
Offshore Marine Service Association's (OMSA) Guidance on Personnel Transport During the COVID-19 Pandemic, Louisiana Law Blog, March 27, 2020
Minimizing Risk to the Oil and Gas Operator, Louisiana Mineral Law Institute, 2001.
Environmental Crimes, Offshore Marine Service Association, New Orleans, 2002.
Reported Cases
Freeport-McMoran Sulphur LLC v. Mike Mullen Energy Equipment Resource, Inc., et at., 2004, WL 1488665 (E.D.La 6/30/04).
Lisa Jenise Collins, et al v. Seahorse Marine, et al., 2004, WL 392729 (E.D.La 2/27/04).
Clarence Sinegal and Victoria Sinegal v. Louisiana Workers Comp. Corp and Merit Energy Co., Timmy Danos, Inc. and Galiano Tugs, Inc., 2008, WL 4862038 (W.D.La 11/7/08).
Gerald Ardoin v. Northstar Interests, LC, et al., 2008 WL 4877381 (E.D.La 11/4/08).
Robert K. Otterstatter v. Oil Tools, Inc., et al., 2004 WL 2300474 (E.D.La 10/7/04).
Carter Pitre v. Tetra Technologies, Inc. and Linder Oil Company, 2007 WL 2177698 (E.D.La 7/30/07).
Sherin Farhood v. Universal Orlando Resort and AIG Claims Services, Inc., 2006 WL 3087217 (E.D.La 10/24/06).
Sekco Operating Company v. Aspect Energy, LLC and Azimuth Energy LLC, 2006 WL 1328824 (E.D.La 5/9/06).
Weislaw Sikorski v. Halliburton Energy Services, Inc., et al., 2005 WL 1574443 (E.D.La 4/4/05).
Foss Maritime Co. v. Cashman Equipment Corp. 2008 WL 4534378 (E.D.La 10/6/08).
Simmons Marine, LLC v. Enervest Operating, LLC, 2005, WL 2050283 (E.D.La 8/3/05).
Commeaux v. Coil Tubing Services, 2004, WL 2984298 (E.D. La. 12/3/04).
Brunet v. United Gas Pipeline Co., 15 F.3d 500, 1994 A.M.C. 1565, 40 Fed. R. Evid. Serv. 598 (5th Cir. 1994).
Pennzoil Producing Co. v. Offshore Exp., Inc., 943 F.2d 1465, 1994 A.M.C. 1034 (5th Cir. 1991).
Domar Ocean Transp., Ltd., Div. of Lee-Vac, Ltd. v. M/V ANDREW MARTIN, 754 F.2d 616, 1987 A.M.C. 1370 (5th Cir. 1985).
Speer v. Taira Lynn Marine, Ltd., 116 F. Supp. 2d 826 (S. D. Tex. 2000).
Jones v. Dow Chemical Co., 885 F. Supp. 905 (M.D. La. 1994).
Daughdrill v. Ocean Drilling and Exploration Co., 709 F. Supp. 710 (E.D. La. 1989).
Daughdrill v. Ocean Drilling and Exploration Co., 702 F. Supp. 1267 (E.D. La. 1988).
Daughdrill v. Ocean Drilling and Exploration Co., 665 F. Supp. 477 (E.D. La. 1987).
Delaware Shipping Corp. v. M/V MINI LYMPH, 574 F. Supp. 717, 1985 A.M.C. 1691 (E.D. La. 1983).
Central Marine Service, Inc. v. Gulf Fleet Marine Corp., 1983 WL 611, 1984 A.M.C. 1019 (E.D. La. 1983).
Super Lawyers