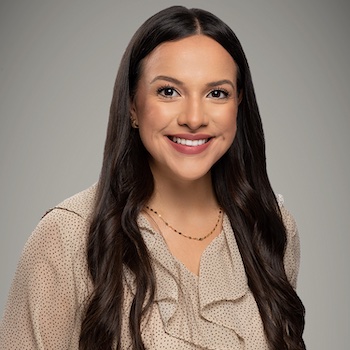 Cristina I. Goulet
Associate
Cristina Goulet is an associate in the Houston office of Kean Miller. She joined the firm in 2023 and practices in the commercial litigation, offshore energy and marine litigation, and casualty and mass tort litigation groups.
While in law school, Cristina served as Editor-in-Chief and Managing Editor of the STCL Energy Newsletter and as President of the Oil and Gas Law Society. She also served as research assistant to Professor C.S. Kulander. Cristina was a Member of the Dean's Advisory Board and a Moot Court and Mock Trial Varsity Member of the Board of Advocates. She received the Sam and Ruth Gross Memorial Scholarship, Houston Bar Association Oil, Gas, and Mineral Law Scholarship, and Dean's Merit Scholarship, and was named a Leadership Council on Legal Diversity 1L Scholar.
Cristina completed the Thomson Reuters Essential Legal Research Certification.
EDUCATION
Cristina earned her J.D. from the South Texas College of Law Houston in 2022. She earned her B.A. in Society, Ethics, & Law and Minors in Philosophy and Sports Management from Texas A&M University in 2019.
MEMBERSHIPS
Co-founder, Connected Aggies Serving Through Leadership Experiences, Texas A&M University