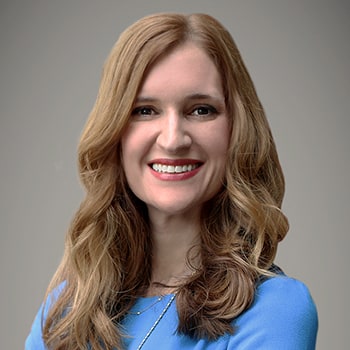 Karli Glascock Johnson
Partner
Karli Glascock Johnson is a partner in the Baton Rouge office of Kean Miller. She joined the firm in 1999 and practices in the trial, toxic tort, and business litigation groups. Karli has over 20 years of experience in complex litigation matters, representing local, national, and international clients in numerous mass toxic tort and class action cases, occupational exposure litigation, oil and gas litigation, chemical exposure litigation, warranty/product liability litigation, and complex commercial litigation (including business torts, trade secrets, breach of contract, and unfair competition). Karli's litigation expertise extends to cases involving voluminous amounts of data/information, including extensive knowledge in the development and management of electronic and large-scale discovery projects.
Karli also serves as a mediator, having completed the mediation training program "Mediating the Litigated Case" offered by the Straus Institute of Dispute Resolution at Pepperdine University Caruso School of Law.
Karli is highly involved in the local state and federal bar and is a Past President of the Baton Rouge Bar Association.
Representative Experience
Representation of a global computer company in complex business litigation involving claims related to trade secrets, breach of contract, unfair competition, and intentional tort, including case management, jury trial, and appellate proceedings.
Representation of local, national, and international industrial manufacturers in numerous mass toxic tort and class action cases, environmental property damage cases, commercial contractual disputes, as well as in substantive environmental areas such as CERCLA/state superfund and emergency response.
Representation of major international industrial client in large toxic tort class action involving its facility on South Louisiana.
Representation of major petrochemical companies and product distributors in jury trials, case management and complete work-up of defense of claims involving both living plaintiffs and wrongful death and survival claims brought by families of deceased contractors and employees who allegedly developed and died from mesothelioma as a result of exposure to asbestos-containing products at numerous sites during their careers.
Serves on National Coordinating Counsel team for a national pipe distribution company in connection with asbestos litigation, including overseeing and managing nation-wide litigation.
Serves as local counsel for nationally recognized companies in occupational exposure cases.
Representation of numerous chemical, petrochemical, and chemical transport companies in mass toxic tort cases, including extensive discovery work, complete work-up of defense, and jury trial.
Representation of major chemical and/or transport companies in transportation-related chemical spill remediation and associated toxic tort litigation.
Representation of global computer company in warranty/product liability/redhibition actions.
Representation of chemical companies involved in a long-term exposure multi-plaintiff litigation.
Representation of large oil companies in connection with claims of environmental property damage related to exploration and production activities.
Successfully negotiated hundreds of favorable resolutions for clients over the span of 20 years.
Advise corporate clients on eDiscovery issues, including eDiscovery compliance, electronically stored information (ESI), electronic information management, and retention and destructive policies and procedures.
Assist corporate clients with custodian identification, supervising and participating in custodian interviews, overseeing forensic collection, managing, and designing technology assisted reviews, and implementation and use of document management and litigation management platforms and eDiscovery tools.
Assist large companies in creating usable and efficient data management plans for current and future litigation.
Assist large companies in the location and preservation of relevant data and production of that data in compliance with federal and state regulations.
Regularly advises clients involving complex records preservation and collection issues, litigation holds, eDiscovery, and all manner of discovery related issues.
Education
Karli earned her B.A. from Louisiana State University in 1995. She earned her J.D. from the LSU Paul M. Hebert Law Center in 1999.
Admissions
Admitted, Louisiana, 1999
Memberships
American Bar Association
Baton Rouge Bar Association
Federal Bar Association
Louisiana Association of Defense Counsel
Louisiana State Bar Association
Recognition
Rising Star, Louisiana Super Lawyers, 2014
Outstanding Young Lawyer of Louisiana, Louisiana State Bar Association Young Lawyers Section, 2010
Articles, Publications and Presentations
Community Service
2010 Louisiana State Bar Association Young Lawyer's Section "Outstanding Young Lawyer of Louisiana"
President, Board of Directors, Baton Rouge Bar Association, 2017
Member, Board of Directors, Baton Rouge Bar Association, 2011-2018
Member, Board of Directors, Louisiana/Mississippi Chapter of the Crohn's & Colitis Foundation
Member, Volunteer Panel, Baton Rouge Bar Association
Volunteer Coach, Louisiana State Bar Association Mock Trial
Member, Mock Trial Competition Committee
Member, Holiday Star Committee, Baton Rouge Bar Association
Member, Belly Up to the Bar Committee, Baton Rouge Bar Association
Member, Delta Zeta Alumnae, LSU Chapter