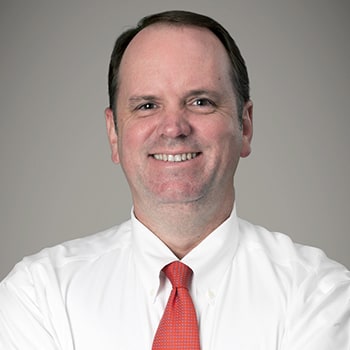 Steven R. Boutwell
Chief Operating Officer
Steve Boutwell is the firm's Chief Operating Officer. Steve is responsible for a wide range of strategic and tactical aspects of the firm's business functions. He provides counsel and support to firm management, and to the leadership of the firm's service departments. Steve works closely with the firm's CFO and service team leaders to develop and implement forward-thinking approaches to talent allocation and development, information technology and knowledge management, staff and attorney training, professional development and continuing legal education, office facilities and records management, marketing and business development, legal pricing and project management, process mapping and process improvement, practice group management, firm governance, research and competitive intelligence, trial logistics and support, diversity and inclusion, and pro bono and community relations.
Steve has served as the Client Retention and Development Director at the Dallas-based law firm of Hughes & Luce, LLP (now KL Gates) and as the Chief Marketing Officer for Bradley Arant Rose & White, LLP (now Bradley LLP). Prior to his career in private practice law firms, Steve served in a variety of sales, management, and publishing roles for Texas Lawyer newspaper (a division of American Lawyer Media) in Dallas, Austin, and Houston, Texas.
Steve enjoys saltwater fishing, collegiate sports, NFL football, mountain biking, hiking, and watercraft.
Representative Experience
A member of the Legal Marketing Association since 1989, Steve has extensive experience in client services, marketing communications, and business development.
Certified White Belt, Process Improvement and Project Management, Legal Lean Sigma Institute.
Wide variety of experience in law firm marketing functions, including corporate identity, branding, advertising, public relations, media outreach, electronic and internet marketing, seminars and client events, collateral materials, crisis communications, budgeting, and special projects.
Regularly conducts client interviews and surveys, organizes client teams and industry teams, and prepares client feedback reports, competitive intelligence profiles, and research reports.
Responds to RFPs, prepares proposals and presentations, develops legal pricing options, and conducts client service training, and coaches attorneys and teams.
Education
Steve earned his B.A. in Journalism (Marketing and Advertising) from Louisiana State University in 1988.
Memberships And Community Service
Member, Legal Marketing Association
Member, Board of Directors (Vice President), City Club of Baton Rouge
Member, Business Development Advisory Council, Baton Rouge Area Chamber (BRAC)
Member, Garden Guild, St. James Episcopal Church
Awards
Your Honor Award, Second Place, Social/Interactive Media, Legal Marketing Association (LMA) Annual Conference, San Diego, CA, April 2015; Your Honor Award, Honorable Mention, Advertising Campaign, LMA Annual Conference, Las Vegas, NV, April 2013; Marketer of the Year, Sales and Marketing Executives of Greater Baton Rouge, November 2010; Your Honor Award, First Place, Promotional Events, LMA Annual Conference, Atlanta, GA, April 2007; Your Honor Award, First Place, Branding Campaign, LMA Annual Conference, Washington, DC, April 2002.