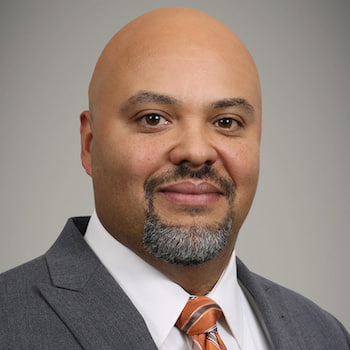 Victor J. Suane, Jr.
Partner
Vic Suane is a partner in the Baton Rouge office of Kean Miller, and Chair of the firm's Diversity Council. He joined the firm in 2007 and practices in the energy and environmental litigation group. Vic is a counselor and litigator for local, regional and national clients in a variety of oil and gas, regulatory, soil and groundwater contamination, wetlands loss, pipeline right-of-way negotiation and expropriation, toxic tort, lost leasing opportunity, commercial, environmental, and general litigation matters.
Over his career, Vic has been named the Outstanding Young Lawyer of Louisiana by the Louisiana State Bar Association, listed by The Best Lawyers in America, listed as a Rising Star by Louisiana Super Lawyers, is a member of the 2018 class of Fellows for the Leadership Council on Legal Diversity, and was selected for the National Black Lawyers' Top 100. Vic is an active member of the National Bar Association's Commercial Law Section, currently serving on its Executive Committee, has served on the Federal Bar Association's Professional Ethics Committee, and was selected as a Fellow for the American Bar Foundation in 2022.
Representative Experience
Representation of energy companies [Fortune 100, 250, 500, and independents] in multi-jurisdictional litigation brought by governmental entities claiming that historical oil and gas activities have contributed to coastal land loss in Louisiana.
Representation of supermajor, major, and independent oil and gas companies in Louisiana "Legacy" lawsuits, brought by landowners seeking property and remediation damages, including surface, subsurface, sediment, NORM, groundwater contamination and wetlands loss, related to historical oil and gas exploration, transportation and production activities.
Representation of oil and gas companies in royalty and production in paying quantity lawsuits brought by lessors seeking damages and lease cancellation.
Representation of operators and former operators seeking site closure and letters of no further action before the Louisiana Department of Natural Resources.
Representation of major pipeline companies in expropriation and other property law matters, including pipeline rights of way involving federal and state laws of eminent domain and surface rights in south Louisiana.
Representation of industrial services company in lawsuit alleging personal injuries resulting from chemical release.
Representation of national non-profit organization in a lawsuit seeking damages for defamation and restriction of privilege.
Representation of local non-profit organization in lawsuit by former director seeking injunctive relief.
Education
Vic earned his B.A. in Business Administration from Rhodes College in 1998. He earned his J.D., cum laude, in 2007 from the Southern University Law Center where he was a member of the Southern University Law Review and American Inns of Court. While at Southern, he received several awards for his classroom excellence.
Admissions
Admitted, Louisiana, 2007; United States District Court for the Eastern, Middle and Western Districts of Louisiana; United States Court of Appeals, Fifth Circuit
Memberships
Baton Rouge Bar Association
Louisiana State Bar Association
National Bar Association
American Bar Association
Articles, Publications and Presentations
Newest Amendment to Article 966 of the Louisiana Code of Civil Procedure Requires Strict Adherence for Summary Judgment Evidence, Louisiana Law Blog, August 15, 2023
Age and Race: The Court's Search for Equality Through the ADEA, 33 Southern University Law Review 399
CLE Presentation, Attorney-Client Privilege/Work-Product Doctrine, November 2012
Business Law Society Presentation, Southern University Law Center, Developing Business as an Associate, September 2012
Environmental Seminar Presentation, I Wish They Hadn't Written That!, September 2012
Community Service
Member, Federal Bar Association Professional Ethics Committee
Member, Commercial Law Section CLE Committee, National Bar Association
Past President, Member, Board of Directors, Louisiana School for the Deaf Foundation
Member, Past Board of Directors, Cancer Services of Greater Baton Rouge
Council Member, Young Lawyers Section (2011-2013), Baton Rouge Bar Association
Past Chair, Member, Belly Up With the Bar Committee, Baton Rouge Bar Association
Kean Miller Team Co-Captain, Alzheimer's Services of the Capital Area, Walk to Remember, 2007-2009
Volunteer, Kean Miller Dictionary Project
Volunteer, Baton Rouge Bar Association, Easter Egg Hunt, Buchanan Elementary, 2006–present; North Highland Elementary, 2006-2007
Volunteer, Literacy Night, Buchanan Elementary, 2006-2007
Recognition
The Best Lawyers in America, Environmental Litigation, 2024
Fellow, American Bar Foundation, 2022
The National Black Lawyers Top 100, 2020
Fellow, Leadership Council on Legal Diversity, 2018
Israel M. Augustine Award, Louis A. Martinet Society, Greater Baton Rouge Chapter, 2016
Rising Star, Louisiana Super Lawyers, 2016
Outstanding Young Lawyer of Louisiana, Louisiana State Bar Association, 2014
President's Award, Baton Rouge Bar Association, 2013