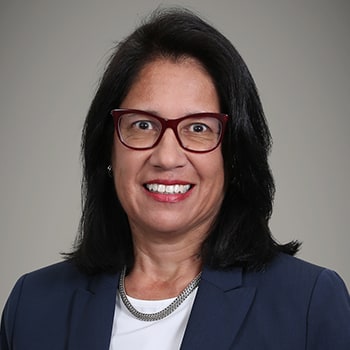 Linda Perez Clark
Partner
Linda Perez Clark is a partner in the Baton Rouge office of Kean Miller. She is also the Managing Partner of the firm. She has more than 20 years of experience representing clients in wide variety of transactional matters, including asset and stock acquisitions and sales, engineering, procurement, construction and construction-related contracts (for both onshore and offshore energy projects), various product supply agreements and commercial leases. She has worked on transactions, construction contracts, and interconnection agreements for industrial mega-projects in Louisiana and in the Gulf of Mexico. Linda's practice includes general advice to large and small businesses, including development and negotiation of company-wide standard forms and indemnity agreements, assisting clients with entity structure and governance, and development of buy-sell and operating agreements among owners and business succession plans.
Linda is listed among the top Corporate/M&A lawyers in the State of Louisiana by Chambers USA 2020. She is listed to the Lawyers of Color's (LoC) Power List 2020. She was listed in the 2023 edition of Baton Rouge Business Report's Capital Region 500. Linda is also recognized in the 2024 edition of The Best Lawyers in America in Corporate Law.
Representative Experience
Lead outside counsel to The Williams Companies, Inc. through its affiliates, in development of project-wide forms for the engineering, fabrication, transportation and installation of a deepwater (Gulf of Mexico) floating production system and negotiation with contractors from project inception to installation
Drafting and/or reviewing offshore production handling and related agreements
Representation of Oceana Group Ltd., the largest fishing company in South Africa, in a $382,000,000 transaction with Daybrook Fisheries, Inc. The transaction involved the outright purchase of a fish processing plant in Empire, Louisiana and a 25 percent stake in the fishing operation
Legal adviser to a publicly-traded outdoor advertising company in its acquisition of more than 5,500 outdoor advertising assets for $458,000,000
Representation of significant residential real estate developer in multiple sales, acquisitions and related matters
Sales of various industrial services companies and business entities for consideration in excess of $100,000,000 in the aggregate
Acquisition of HUD insured multi-family complex for $25,000,000
Sale of chemical manufacturing company for $33,000,000
Acquisition of chemical manufacturing company for $10,000,000
Representation of a Louisiana bank with regard to corporate governance matters, real estate transactions on behalf of the bank, and in day-to-day counsel in connection with the bank's corporate structure and related issues regarding its Board of Directors
Representation of a Louisiana seafood mix company in negotiations and contracts with national grocery store chains and restaurants

Education
Linda earned her B.A., magna cum laude, from Louisiana Tech University in 1988. She earned her J.D., cum laude, in 1991 from Tulane University Law School where she was the recipient of the American Jurisprudence Award in Commercial Law II, Creditor's Rights and Bankruptcy.
Admissions
Admitted, Louisiana, 1991
Memberships
Louisiana State and American Bar Associations
Articles, Publications and Presentations
SBA Updates its FAQ Regarding Good Faith Certification, Louisiana Law Blog, May 13, 2020
Eligible Self-Employed Individuals under the CARES Act, Louisiana Law Blog, April 9, 2020
Protecting Attorney-Client Privileged Communications in M&A Agreements, Louisiana Law Blog, November 1, 2016
American Arbitration Association Requires Registration of Consumer Arbitration Clauses, Louisiana Law Blog, August 14, 2014.
Louisiana Supreme Court Holds Terms and Condition Binding Due to Course of Conduct and Forum Selection Clauses are not per se Violative of Public Policy, Louisiana Law Blog, July 29, 2014.
Louisiana State Bar Association, Diversity Conclave, Panelist, 2008, 2010, 2013
5th Annual Louisiana Women's Conference Panelist: "Career Path in 2014: Defining Success on Your Own Terms."
Assistant Examiner, Committee on Bar Admissions, State of Louisiana.
Single Business Enterprise Theory, Louisiana State Bar Association, Transactional Law Seminar, March 4, 2005.
The Art of the Deal: Common Contract Terms and What They Mean, Louisiana Institute for Entrepreneurial Education and Family Business Studies, LSU, Women Mean Business Lecture Series, June 24, 2004.
Louisiana Landlord and Tenant Law, Lorman Educational Services, January 30, 2002.
Evictions and Landlord/Tenant Law in Louisiana, National Business Institute, August 28th & 29th, 2001.
"In the Courts–Fifth Circuit," ABA, Class Actions and Derivative Suits Newsletter, published quarterly, 1997-2000.
Community Service
Lawyers of Color Power List, 2020
Louisiana Tech Alumni Association National Board of Directors, 2017-present
Board of Directors, Urban Restoration Enhancement Corporation, 2012-present
Board of Directors, Louisiana Appleseed, 2011-2018
Advisory Board, Catholic Community Services, 2000-2010
LSU Stephenson Entrepreneurship Institute Advisory Board, 2009
Board Chairman, Catholic Community Services Advisory Board, 2007
Past President, Forum 35
Past President, Board of Directors, Serve! Baton Rouge, 1999-2004
Board of Directors, Charles W. Lamar branch, YMCA, 2000-2004
Member, Baton Rouge Area Foundation, Plan Baton Rouge Oversight Committee, 1999-2003
Advisory Board, CAN DO!, 1999-2003
Member, Baton Rouge Town Meeting Committee, 1999-2001
The New Orleans Council for Community and Justice (NOCCJ), Weiss Award Recipient, 2019

Women's Council of Greater Baton Rouge "International Women's Day", 2019 Honoree

National Diversity Council, 2014 Most Powerful and Influential Women Award
"Women's History Month" - Honoree, Baton Rouge Paralegal Association, March 17, 2009
Baton Rouge Business Report's "Influential Women in Business," 2008
Baton Rouge Business Report's "Forty Under 40", 1995