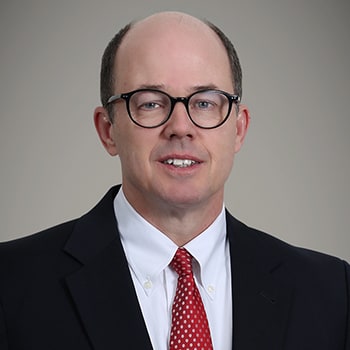 G. Blane Clark, Jr.
Partner
Blane Clark is a partner in the Baton Rouge office of Kean Miller. Blane has more than 35 years of experience in handling complex industrial commercial and health care transactions for clients. He has handled many different types of transactions, including:
The sale and purchase of hundreds of industrial, commercial and medical businesses in the form of asset deals, equity deals and mergers;
Onshore and offshore oil, gas and other material pipeline dedication, gathering and transportation agreements;
Industrial and commercial construction agreements;
The sale and leasing of mineral interests;
The formation of entities for use as business operating companies, as joint ventures, as real estate holding companies, as medical, legal, architectural and other professional service providers and other purposes involving the preparation of organizational documents;
The contracts utilized in the health care industry, such as exclusive services agreements between hospitals and physician groups, agreements between physician groups and third party payers, employment and independent contractor agreements, shareholder and partnership agreements among physician shareholders and partners, and purchase agreements involving the acquisition of health care providers;
Loan transactions involving loan agreements and collateral documents involving real estate and other assets;
Employment agreements; and
Non-competition agreements.
In addition to handling transactions for his clients, Blane works with clients in planning their overall corporate structure and in helping with day-to-day issues that surface in the operation of their businesses.
Blane has also advised many shareholders and partners on the relative rights of holders of a majority or minority equity position. He has been recognized for his legal skills by being listed in The Best Lawyers in America (Woodward/White) from 2007-2024 in Corporate Law and M&A and is listed as Lawyer of the Year in Mergers and Acquisitions Law in 2021 and Corporate Law in 2022. Blane is also listed among the top Corporate/M&A lawyers in the State of Louisiana by Chambers USA 2018, 2019 and 2020. He was listed in the 2023 edition of Baton Rouge Business Report's Capital Region 500. He is AV-rated by Martindale-Hubbell.
Representative Experience
Negotiation of LLC Operating Agreement on behalf of one joint venture partner involving the ownership and operation of a project in excess of $3,000,000,000 including an 1100 mile natural gas liquids pipeline from West Virginia to Louisiana, a fractionation facility, storage facilities, an LPG terminal, and export facilities.
Lead outside counsel in the representation of midstream companies in the negotiation of suites of agreements involving the construction of floating production systems, oil and gas export pipelines, onshore gas processing facilities, and the ownership and operation of those facilities and lines to handle and gather oil and gas process gas from various fields in the Gulf of Mexico, including Boomvang Nansen, Tahiti, Blind Faith, Great White/Perdido, Jack St. Malo, Lucius, Hadrian South, Heidelberg, Tubular Bells, Gunflint, Appomattox, Anchor and others
Negotiation of LLC Operating Agreement on behalf of one joint venture partner involving the ownership and operation of a floating production system to be located in the deep water, Gulf of Mexico, offshore Louisiana
Lead outside counsel in representation of the former Mobil Oil Corporation in its acquisition of the former Tenneco Refinery in Chalmette, Louisiana
Lead outside counsel in the sale of the DSM SBR (styrene-butadiene rubber) business unit of DSM Copolymer, Inc. to a private equity company, Lion Chemical Capital LLC. The transaction took the form of asset transaction, and involved issues particular to the sael of an on-going industrial business, such as those relating to ERISA, unions, state and local taxes and environmental regulatory matters
Representation of owner of a terminal facility and adjacent manufacturing facility located on the Mississippi River in connection with the sale of the terminal facility and related agreements in connection with the purchaser continuing to provide terminal services in connection with the manufacturing facility
Represented the members of James Construction Group, L.L.C. in the sale of 100% of the membership interests to Primoris Services Corporation, one of the largest privately-held construction companies in the southeastern United States, consisting of case, promissory note and stock in Primoris

Representation of the shareholders of Louisiana Fish Fry Products, Ltd. in its sale to a private equity backed firm:The multi-million dollar transaction included unique intellectual property, trademark, and copyright negotiations, as well as complex valuations of these nationally distributed fish fry and other products
Representation of Cajun Injector, Inc. in the sale of the assets of the Clinton-based company to a New Iberia-based Bruce Foods Corporation: The multi-million dollar transaction included unique intellectual property, trademark, and copyright negotiations, as well as complex valuations of the nationally distributed marinade maker
Representation of non-physician group in the formation of a series of physician owned joint ventures in the ownership and operation of medical imaging centers
Representation of Lamar Advertising Company, a public company, and the largest owner of outdoor advertising structures operating in 48 states, in the acquisition of a number of outdoor advertising companies
Representation of Petroleum Service Corporation and its shareholders in the sale of all stock to a global service provider: Negotiations focused heavily on the terms for escrowing of the purchase price to satisfy potential indemnity claims. Further adding to the complexity of the transaction were issues relating to foreign ownership of assets and filings under Hart-Scott-Rodino Antitrust Improvements Act
Representation of an individual in the acquisition of a membership interest in a pipeline company and in the financing of the acquisition cost
Representation of an industrial services contractor in the acquisition of a business by a domestic competitor: The transaction included various successor liability issues
Representation of a Louisiana home health and hospice agency, in the acquisition of a business from a regional hospital
Representation of numerous medical groups and doctor groups in a wide variety of complex business transactions and agreements
Representation of numerous banks and financial institutions in a variety of transactional matters, financings and closing matters
Representation of purchaser of health clubs in Baton Rouge, Louisiana and Gonzales, Louisiana
Negotiation of Professional Services Agreements between radiation oncologists, emergency room physicians, radiologists, anesthesiologists and/or pathologists with the following facilities:

Our Lady of the Lake Regional Medical Center
Lake Imaging Center
St. Elizabeth Hospital
Baton Rouge General Medical Center
Woman's Hospital
Louisiana Spine and Sports Medicine
Outpatient Surgery Center for Site
St. James Parish Hospital
Advanced Surgical Care of Baton Rouge
Greater Baton Rouge Surgical Hospital
Lane Regional Medical Center
Perkins Plaza Ambulatory Surgery Center
The Neuromedical Center Hospital
BRASS
West Louisiana Parish Hospital
Surgery Center of Hammond
Surgical Specialty Center of Baton Rouge
Orthopedic Surgery Center
Gonzales Endoscopy Center
Pennington Cancer Center

Represented Command Central, Inc. in the sale of the assets of a commercial and residential alarm monitoring business to Acadian Monitoring Services, L.L.C.
Representation of shareholders of Alford Safety Services, Inc. and Alford Safety, Inc. in the sale of a majority equity interest in a group of companies engaged in oil field services
Represented Hearthstone Properties Corporation and Westmoreland Properties, LLC in the purchase of Westmoreland Shopping Center in Baton Rouge, Louisiana
Education
Blane earned his B.S. from Louisiana State University in 1980. He earned his J.D. in 1984 from the LSU Law Center where he was a member of the Order of the Coif.
Admissions
Admitted, Louisiana, 1984
Memberships
Baton Rouge, Louisiana State (Business and Antitrust Sections) and American (Business and Antitrust Sections Bar Associations; Louisiana Law Institute (Council, 1993-1995 Junior Honorary Member)
Articles, Publications and Presentations
Co-Presenter, LLC Operating Agreement Considerations & Preview of the Corporate Transparency Act, Kean Miller Breakfast Briefing, Baton Rouge, LA, September 1, 2022
Additional Guidance Impacting PPP Loan Forgiveness, Louisiana Law Blog, July 16, 2020
SBA Updates its FAQ Regarding Good Faith Certification, Louisiana Law Blog, May 13, 2020
Eligible Self-Employed Individuals under the CARES Act, Louisiana Law Blog, April 9, 2020
April 7, 2020 Update to CARES Act and Paycheck Protection Program, Louisiana Law Blog, April 7, 2020
April 6, 2020 Update to CARES Act and Paycheck Protection Plan, Louisiana Law Blog, April 6, 2020
Co-Presenter, Putting the CARES Act to Work for Your Business, Kean Miller Webinar, April 2, 2020
CARES Act Offers Much Needed Hope to Small Businesses, Louisiana Law Blog, March 30, 2020
Business Acquisitions, Baton Rouge Bar Association, 1995.
Basic Corporate Law in Louisiana, National Business Institute, 1993.
Considerations in Buying or Selling a Business in Louisiana, National Business Institute, 1991.
Community Service
Past Member and President, Board of Directors, Big Buddy Program
Past Member, Board of Directors, The Hospice Foundation of Greater Baton Rouge
Graduate, Greater Baton Rouge Chamber of Commerce Leadership Class of 1998
Baton Rouge Business Report's "Forty Under 40," 1999
Past Member, Board of Directors, Myriam's House
Past Member, Board of Managers, Baton Rouge Main Street Market, L.L.C. (a community public market)
Past President, Board of Directors, Catholic High School Alumni Association
Member, Board of Directors, Catholic High School