Message from the Managing Partner
Forty years ago, six partners in a well-respected Baton Rouge law firm announced they were leaving to begin a new firm. A firm where the partners would be friends first and business partners second. A firm that would be inclusive and where client service reigned supreme. A firm that put people first.
The founding principles of Kean Miller are alive today, in our relationships with each other, in our representation of our clients, and in the communities where we live and work.
As we reflect on the past 40 years, I am amazed by all that we have accomplished. We have grown from twelve attorneys in 1983 to 190 attorneys in 2023. We have expanded from one office in Baton Rouge, to eight offices across Louisiana and Texas. And we continue to represent many of our firm's original clients to this day.
Kean Miller continues to set the standard for excellence in client service, having earned numerous awards for our market-leading practices and creative legal representation. Once again, we are honored to be recognized by the National Law Journal's NLJ 500, the Law 360 Top 400, and the BTI Client Service All-Stars. Furthermore, Kean Miller has achieved Mansfield Rule 5.0 certification, a rare honor bestowed on a select group of law firms that prove a genuine commitment to diversity and inclusion in the legal profession.
I am excited for the future of our firm, and for the new opportunities that lie ahead. At forty years young, we steadfastly remain Your Counsel.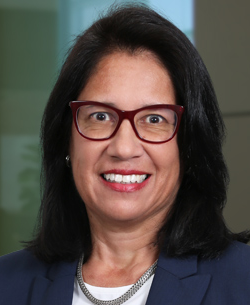 Linda Perez Clark
Managing Partner